Warm Havens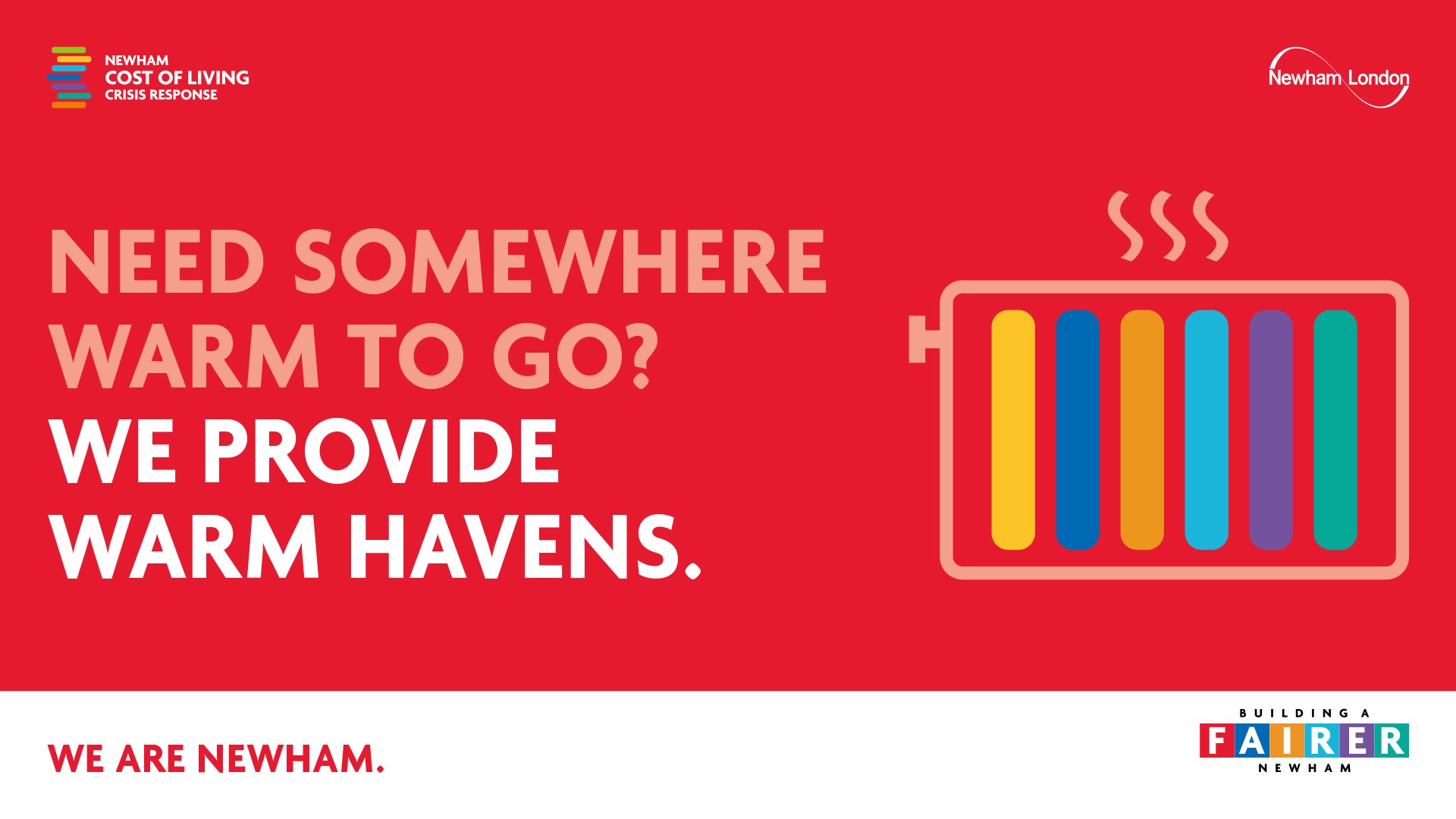 Newham Warm Havens are safe, non-judgemental warm spaces where residents can go, free of charge, for whatever reason they like. They are part of our response to the cost of living crisis.
Use the map below to search for your nearest warm haven. You can see opening hours, address and available facilities.

Newham Food Alliance:
The team are available to receive calls Monday-Friday (9am-5pm) at 07790 975 086 or email frontdoor@newhamfoodalliance.org. https://www.newham.gov.uk/advice-support-benefits/newham-food-alliance


Libraries & Community Centres:
Newham's Libraries and Community Centres will be closed from Saturday 24 December at 5pm.
Stratford, East Ham, Canning Town and Custom House Library Warm Havens will be open on Wednesday 28, Thursday 29 and Friday 30 December, 10am – 5pm.
Offering: Access to books, WiFi, PCs, information, hot drinks and activities
No referral or booking needed
Community Centres will be open for private bookings.
Libraries and Community Centres will open as normal from Tuesday 3 January.
Call our 24-hour automated line 0333 370 4700 or click here to renew and reserve items or access online resources.
Newham Warm Haven grants programme 2022/23
The current cost of living crisis is having a deep impact on Newham's residents and it is likely to have implications for years to come. The acute challenge of the moment is driven by generationally high inflation of essentials such as domestic energy and food; this exacerbates a chronic challenge driven by the squeeze on living standards for those towards the bottom and middle of the income distribution for many years.
Given the cumulative impact on Newham's residents, there is a need to come together as a community and a place to ensure that we're using our collective levers as effectively as possible. This is in order to support the flow of income into Newham's households and to mitigate the impacts of poverty and low income on people of all ages.
As part of our four-pronged response, Newham has launched the Newham Warm Havens Programme. The 'Warm Havens' Programme is working with partners of the Council to keep spaces and places open for longer including in libraries, community buildings and other places.
To action this, small grants of up to £500 are available to voluntary/community or faith organisations as well as informal local community groups who want to support residents who are facing difficulties.
Warm Haven Grant Guidance (PDF)
Warm Haven Grant Guidance (Word)
Warm Haven Grant Application (PDF)