Find out how we are working hard to provide the best services for you.
Towards a Better Newham – Recovery and Re-orientation Strategy
Newham has been disproportionately affected by Covid-19 – with a devastating death toll, additional people on benefits, long-term Government funding cuts, and increasing costs and demand for essential services.
Consequently, in November 2020, Cabinet approved the 'Towards a Better Newham' strategy which sets out the Council's ambitious plan to support our residents, communities and businesses to recover from the unprecedented impact of COVID-19 and to begin work to reorient to create an inclusive economy for Newham for the future.
Centred around five broad priority themes and driven by eight "pillars" of action, 'Towards a Better Newham' builds on the council's Community Wealth Building and inclusive economy strategies to protect residents during the pandemic, and outlines measures to help people to lead healthier and happier lives; make Newham the best place for children and young people to grow and thrive; tackle racism and inequality; put people at the heart of decision making, and ensure local communities benefit from long-term inclusive prosperity:
Each Pillar has a set of strategic objectives, alongside key actions the council will take to deliver them. As a key part of agreeing our new strategy, and our continuous commitment of maintaining the highest levels transparency and democratic accountability, we shall be monitoring and reporting on progress in relation to the delivery of Towards a Better Newham and the Corporate Delivery Plan. It follows through on the commitment made by Cabinet to provide progress updates on a regular basis to residents, communities and businesses on how we are delivering for them as an organisation.
The Newham Outcomes Framework
Our Corporate Delivery Plan and Towards a Better Newham Strategy is underpinned by our Newham Outcomes Framework.
This framework is intended to drive strategic change and improvement across Newham, enable effective measurement of the impact of the strategy, and redefine the council's performance framework providing a golden thread throughout the organisation from the aims and intentions of Towards a Better Newham and business and planning arrangements across the organisation.
This will ensure that we, as an organisation, are able to demonstrate and measure the impact of Towards a Better Newham: Our Recovery and Reorientation Strategy to our residents, communities and businesses.
| | |
| --- | --- |
| Tier 1: Vision | Our vision – a Happy Healthy and Well Newham |
| Tier 2: Strategic Outcomes | The eight pillars of Towards a Better Newham, supported by, our long-term, top 25 strategic outcomes |
| Tier 3: Our intermediate Outcomes | Our intermediate outcomes that we want to realise change in over the coming 1-2 years, broken down into 108 outcome statements |
| Tier 4: Service specific outcomes and outputs | These will be formed as a result of the service planning process and our service specific key performance indicator set. |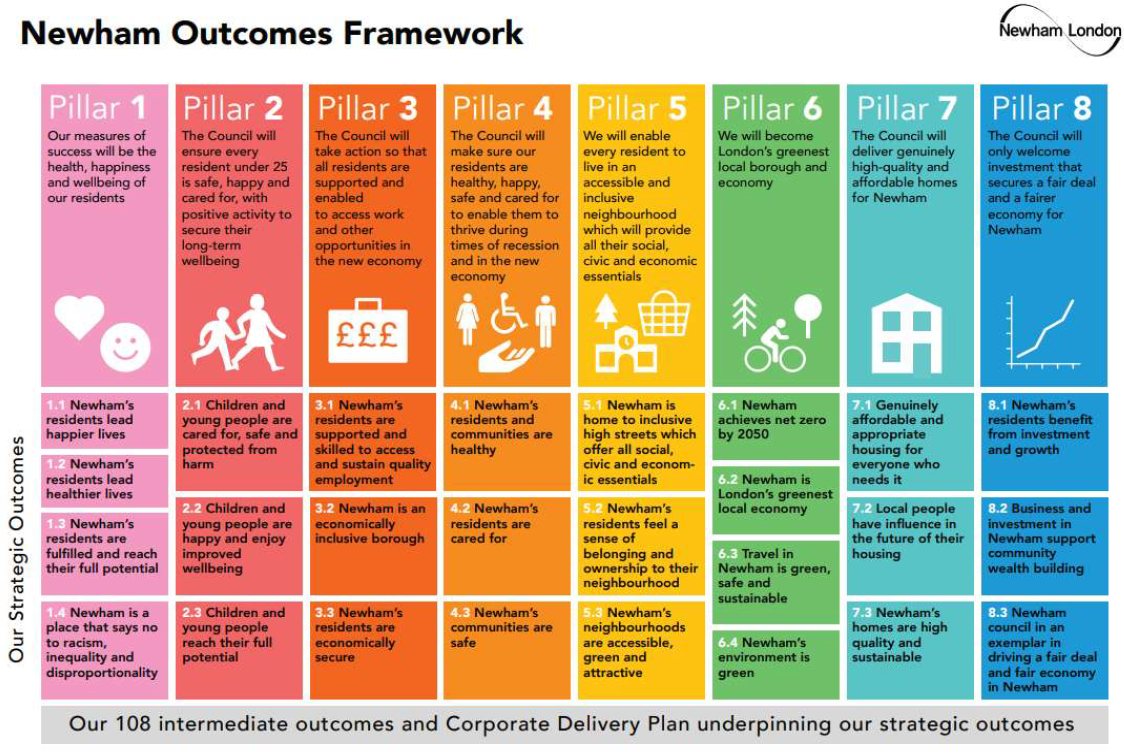 Performance Monitoring and Reporting
We also have a set of key strategic Performance Measures to help us to monitor our progress against Council priorities. Performance against these indicators is measured on a monthly basis (where possible) with progress considered by the Corporate Management Team and Cabinet on a quarterly basis.
Quarter 3: 2021/22
Quarter 2: 2021/22
Quarter 1: 2021/22
Quarter 1: 2020/21
Quarter 2: 2020/21​ ​
Quarter 3: 2020/21
Quarter 4: 2020/21
Our Service Planning Process
Service planning sits within a wider context in Newham. Service plans act as critical intermediate plans that connect our vision, strategy and outcomes with our operational and service-based plans for delivery to our residents.
As such they are an important 'piece in the puzzle' that make up our organisational approach to planning and delivery. This ensures each directorate identifies how they will deliver their services and what they will be doing to support the delivery of our priorities and the Corporate Plan. This enables staff to know how their work contributes to achieving the council's priorities and objectives.
The below diagram shows where they fit in with regards to that wider context: