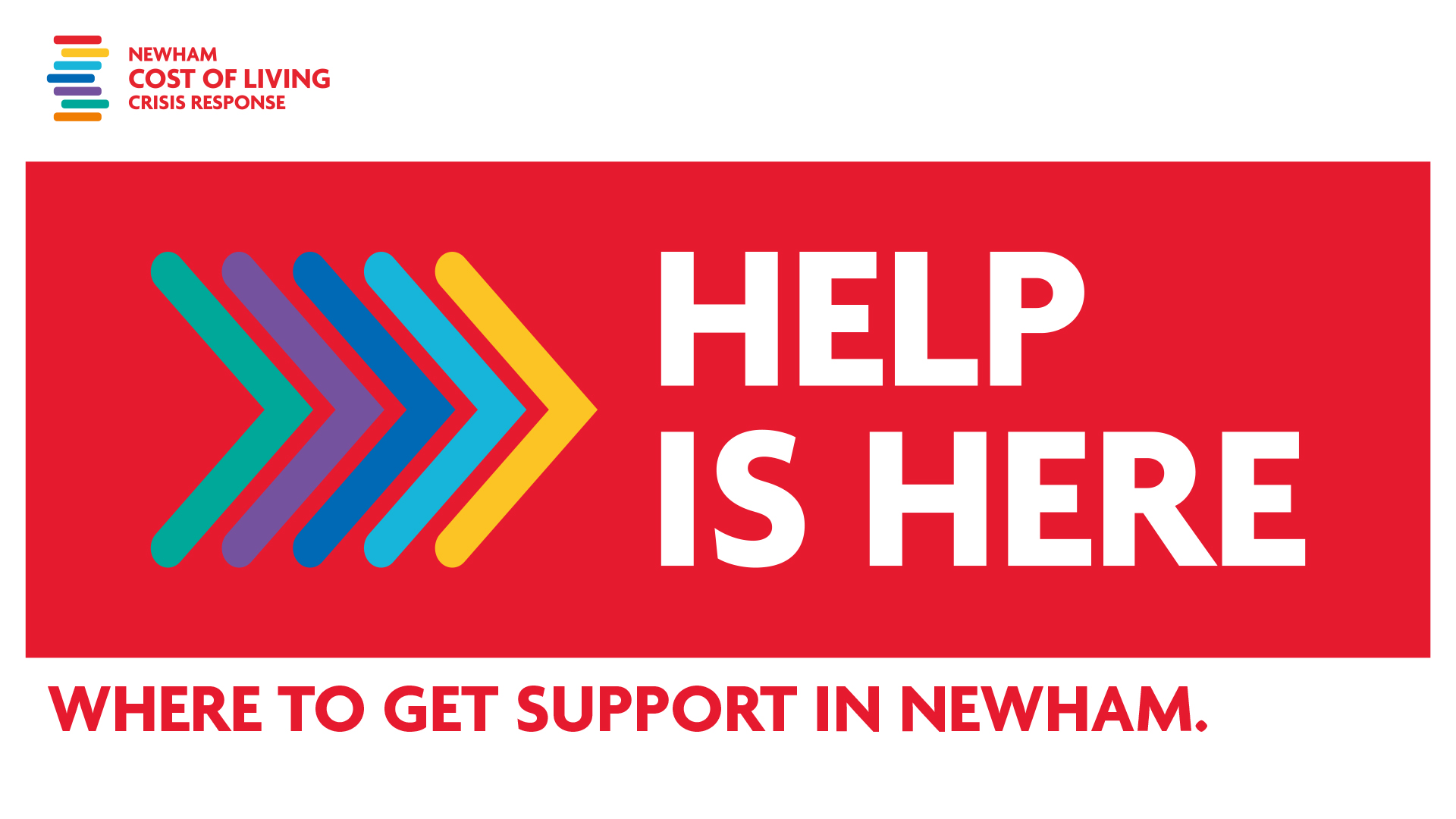 •    Wide ranging support continues to be available to Newham residents 
•    New online map makes this easier to find
A new campaign called 'Help is Here' has been launched by Newham Council to help residents know where to go for help throughout the borough.

The Help is Here campaign is the latest phase in the collaboration between the Council, local partners and voluntary, community and faith organisations to support residents across Newham. It continues the work of the Anti-Poverty Alliance in Newham.

A key feature of the campaign is a new suite of information and resources to help increase awareness amongst residents, voluntary sector, local businesses and partners of all the help that is available in Newham to help people manage the increase in the cost of living.

The pressures caused by the increases have hit Newham residents extremely hard. Thousands are facing catastrophic financial instability due to inflation, soaring energy bills and housing costs. The demand for help is so high that over 300,000 instances of support have been provided so far. This comes on the back of the existing pressures of day-to-day costs that Newham residents have faced for years and that were made worse during the COVID-19 pandemic.

The Council's Help is Here booklet lists a range of help that is available to support people around finances, housing, energy bills, food, work, health and emotional wellbeing. This spans from the Council's leading go-to financial support service, Our Newham Money, to Bonny Downs which works with people of all ages, cultures and backgrounds to improve their health and wellbeing and to access the support they need. An online map has been created showing where all this help is provided in person.

In addition, the Council has produced a new toolkit of promotional assets which its voluntary sector partners can use in their own work promoting their services.

The Mayor of Newham, Rokhsana Fiaz OBE, said: "Tackling the cost of living crisis requires a comprehensive, borough wide response. The Help is Here campaign has been designed to simplify where all the support exists. Our new all-in-one list organisations providing this and the online map shows exactly where this is available in person at a wide range of locations."

Amanda Dubarry, Chief Executive of Your Place (formerly Caritas Anchor House) and a trustee of One Newham, said: "The Help is Here campaign is an excellent example of collaboration at a critical time when the services of the Council and the voluntary and community sector are needed most. It will ensure that people who are in need of support – perhaps that they haven't had to seek it before – can find it easily before they reach a breaking point."

Ever since the Council's Cost of Living Crisis Response programme began in September 2022, its Cost of Living Champions have played a key part in helping residents know where support is available. The Help is Here campaign will be yet another useful resource for them to do this.

Anyone who lives or works in Newham can be a Cost of Living Champion. They will receive regular information about support and resources available to people in Newham by email and/or WhatsApp. Champions can share the information with their family, friends and community in whatever way works for them. They can then share back with the Council what they are hearing and what people need. New Cost of Living Champions are always welcome and to sign up they should email costoflivingresponse@newham.gov.uk.

Any resident of Newham who is facing financial difficulty and needs help should visit www.newham.gov.uk/costoflivingresponse or call Our Newham Money on 020 8430 2041.