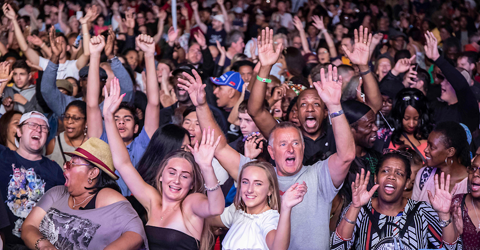 Almost 32,000 residents danced the night away across four nights of Newham Council's music extravaganza Under the Stars at East Ham's Central Park.​
The event opened on Thursday with Levi Roots, Bitty McLean and The Skatalites with classic reggae, ska and lovers rock. Friday attracted some of the best of British Asian talent around including Dr Zeus, local boy Mumzy Stranger, H-Dhami and Rameet Sandhu.
The crowd kept on moving on Saturday with classic dance tracks from Soul II Soul featuring Jazzie B and Caron Wheeler, tribute band Ultimate Earth, Wind & Fire, and Joel Culpepper. Sunday rounded off the feast of music with a spectacular display of fireworks to the sound of the Royal Philharmonic Orchestra under the baton of John Rigby accompanied by soprano Sarah Redgwick and tenor Robyn Lyn Evans.
Mayor Rokhsana Fiaz said: "All four nights were energetic, eclectic and electric especially with the spectacular flag waving and fireworks on Sunday which made everyone go wild. It was a fantastic event with an incredible range of artists, but the biggest stars were our amazing residents who created such a brilliant atmosphere.
"Music is a powerful tool in breaking barriers and promoting stronger ties between people, but also enabling us to understand the world and life. With the Newham Show and Carnival plus all the events we have put on for young people over July and August I hope residents have had fun during my first summer as Mayor. People will continue to be at the heart of everything we do."
A collection during the event raised money for the Magpie Project in Forest Gate, a charity that supports mothers and children under five with housing needs.