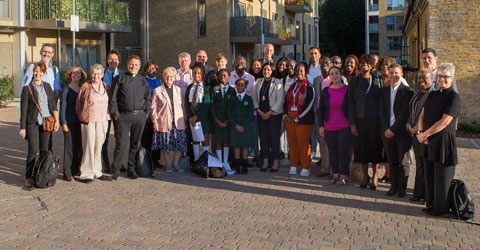 ​​Newham Mayor Rokhsana Fiaz has paid a visit to St Clements Avenue Community Land Trust (CLT), a successful housing pilot which provides a possible solution to the ongoing housing crisis.
The visit was organised by Newham Citizens, who are part of East London Communities Organisation (TELCO), a London wide group committed to community organising. Newham Citizens is an alliance of 21 civil society institutions who act for power, social justice and the common good. The group is made up of 20 members including schools, faith and community groups.

The group, which also included Councillor John Gray, Deputy Mayor and Cabinet Member for Housing Services and Councillor Shaban Mohammed, Deputy Cabinet Member for Housing Services, were given a tour of the site and spoke to residents who lived in the CLT homes.

CLTs are a way of providing genuinely and permanently affordable homeownership as prices are set according to local earnings to ensure local people can afford to stay in the neighbourhoods they grew up in. Homes under the scheme are sold to local working people at a fraction of their commercial selling price and can be sold on only at a similar affordable price. For example, a one bedroom house at the site in Bow will be sold for £130k compared with the £500k it would normally cost.

The St Clements Avenue development was built by Linden Homes in partnership with the Greater London Authority and Peabody Housing Association. The whole development provides 252 new homes, 35 per of which will be affordable. This includes 58 social rent homes and 23 CLT homes.

Providing a CLT was part of the section 106 requirements for the site after a campaign by local people for St Clements to become a pilot for the capital's first CLT. The success of this site has now led to a commitment from the London Legacy Development Corporation that at least 20 CLT homes will be delivered within their new neighbourhoods Eastwick and Sweetwater.

Members of Newham Citizens were involved in developing the Community Land Trust Model and also helped to develop the London Living Rent Model of affordable homes with Mayor of London Sadiq Khan.
The provision of genuinely affordable homes is a key priority for Mayor Fiaz and she is already on track to deliver her pledge to start building 1,000 homes within this mayoral term.

Mayor Fiaz said: "It was great to visit St Clements Avenue CLT and meet the vibrant mixed community who call this development home. I was impressed by the high quality design of the homes which have also maintained the history of the area. I was inspired listening to the passion and enthusiasm of the people I met today – their stories of homelessness resonate with me and demonstrate the human side of the housing crisis, which we are at the forefront of in Newham.

"When I became mayor, I made a commitment to support a CLT in Newham. Models such as this show different ways we can fully involve residents in how we shape our borough and they can directly help us address our housing challenges. I look forward to working with residents to develop this further."

Father Sean Connolly, Co-Chair of the Newham Citizens Leadership team, said: "The CLT model tallies with the values of Newham Citizens, part of TELCO, which campaigns for decent housing for local working people, living side-by-side with those more well-to-do in stable and harmonious communities. We want to work with the Mayor to bring change in Newham."