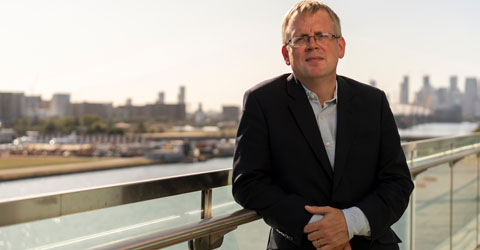 ​​Newham Council has today appointed a chair to a new Democracy and Civic Participation Commission, which will consider how the council can increase residents' participation in local democracy, facilitate greater civic engagement, and become more transparent and accountable.
Mayor Rokhsana Fiaz this week (Monday 16 September) announced to Full Council the appointment of Professor Nick Pearce as chair of the Commission, which will shortly get to work on gathering resident and expert feedback about how the council can become a beacon of local democracy.

Nick is Director of The Institute for Policy Research (IPR) and Professor of Public Policy at the University of Bath. He has previously been the director of the Institute for Public Policy Research (IPPR), Head of the No 10 Downing Street Policy Unit, and an adviser in a number of Whitehall departments.

Nick said: "I am delighted to have been appointed to chair the Democracy and Civic Participation Commission in Newham. In the coming months we will consult widely, gather evidence and make recommendations for the reform and renewal of the democratic life of Newham."

The Mayor has tasked the commission with answering a range of questions in order to help ensure local residents can participate more extensively in local democracy, have their voices heard in decision-making, and hold their representatives to account.

The chair will now work in conjunction with the Mayor of Newham to appoint a number of independent members of the Commission, who will consider six lines of enquiry:
How to ensure the council has decision making arrangements that are enabling, clear, co-ordinated, agile and take place at the right level;
How to ensure transparency and accountability are in place in relation to the balance between resident and member democracy;
How to understand and resolve the tensions and opportunities between representative and participatory democracy;
How we improve the representative role whilst facilitating and enabling wider participation;
What the role of the councillor is in the context of communities doing more themselves;
The most appropriate models of governance to meet the council's aspirations.
The Commission will hand down their final report with findings and recommendations in March 2020.

Mayor Fiaz said: "I am passionate about making Newham Council a beacon of participatory democracy and have been working to better represent the people of this borough since stepping into office.

"The Democracy Commission, led by Nick, will allow a panel of experts to take an unbiased view of the structures in place at the council and decide how these can be improved.

"I want to make our council more open and transparent than ever before. Nick and the Democracy Commission will play a vital role in this."