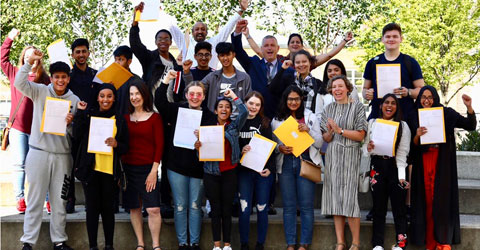 ​It was a day for nerves, tears and cheers as pupils across Newham received their GCSE results on Thursday.
For some the scores on the results forms are life changing. For all they are a testament to five years of hard work, commitment and overcoming life challenges.

As pupils at Eastlea Community School in Canning Town, and Cumberland School in Plaistow, arrived to collect their results they were met by Councillor Julianne Marriott, Cabinet member for education, and Councillor Jane Lofthouse, Deputy Cabinet member for education.

Councillor Marriott said: "I have been hearing stories of pupils who are going on to Eton, going to the Brit School, and many who will go onto sixth forms across the borough. I spoke to a young man who scored straight 9s, a young woman who achieved amazing results despite missing huge chucks of school due to depression, and watched a young woman proudly share her results with her dedicated mentor.

"It was inspiring to share this morning with our fantastic young people as they start the next chapter of their lives."

With the new GCSE exams now 100 per cent determined by a single exam, even the most gifted pupils cannot be sure about their results until the dreaded envelope is opened.
This year, almost 4,000 pupils sat exams in Newham across 17 schools, compared to 3,293 last year.

Provisional figures show that Newham students have again performed above the national average in English Literature, English Language and Mathematics with 67 per cent achieving 4+ compared to 66 per cent last year.

The new exams are based on final written tests with no course work taken into account. They are designed to be more challenging and are awarded on a number system where 9 is the highest and 1 is the lowest (a 4 is considered equivalent to the old grade C pass under the previous system and a 7 equates to an A equivalent).

At Cumberland School, Plaistow, for Maheraj Ahmed the stakes were high, with the right results sending him on a scholarship to the world famous Eton, and a life away from home at boarding school.

He said: "I don't know why but all summer I thought I'd failed. I worried I hadn't put my name on the paper! It was shocking."

But he needn't have worried because he aced his exams and a place at Eton awaits where he will continue his dream working towards becoming a cardio-thoracic surgeon.

It is a very specific goal but one with a very special reason behind it. He said: "My family has a history of heart conditions and they are scared and I'm scared for them so if I can understand what is going on, that fear is gone."

For Luke Edwards, who attends Eastlea School in Canning Town, the physical challenge of sitting an exam adds to the stress. Luke has cerebral palsy affecting both his legs and arms which meant in his exams he had to rely on dictating his answers for someone else to write down.

But despite this, he achieved fantastic results, and surprised himself. He said: "Oh my God I'm so happy. I thought I was going to fail everything and I haven't. I've done well enough to get into my college so I'm really happy."

Luke will now fulfil his dream of studying music at college in Havering, on the way to his ultimate ambition of becoming a music producer.

Fellow Eastlea pupil, Lakai Baptiste, also faced huge personal challenges. A battle with depression led to her missing a great deal of schooling, but ultimately a diagnosis of autism helped her and her teachers come to understand the best way to help her achieve her goals.

She said: "I got a lot of help through therapy and support in school, and the diagnosis of autism allowed me to be recognised as having certain issues that needed to be accommodated. I think that's a big reason that I did so well.

"I hope to go into law in the future and I'm going on to do a BTEC in Law, with A-levels in Politics and History because they are the things I am passionate about. I hope that somehow I can make a positive influence for people like me who face struggles at school and in their professional lives."

Mohamed Ahmed Khan was another very happy Eastlea boy, having swept the board achieving a perfect score of ten 9s.

But like many of his peers Mohamed didn't expect to do as well as he did. He said: "I was just speechless. I didn't know how to feel because I have been so scared but also so excited. I am now going to the London Academy of Excellence in Stratford to study Maths, Further Maths, Physics and Chemistry."

If that was not enough to be getting on with, Mohamed is also a successful businessman, working in his spare time as a freelance web designer and developer, for clients around the world including Norway and Canada.

So what advice would this brilliant young entrepreneur give to next year's GCSE pupils? He said: "You have to be really committed. I started working all the way back in the summer of year 10 and I just knew I had to do my best because you only get one chance. My advice would be stay committed and work on understanding your subject and be really thorough."

Councillor Lofthouse said: "The borough's results continue to improve year on year, and are above the national average, which is down to the hard work of our students, teachers and the support of parents and the community.

"I really enjoyed spending the morning with the wonderful students and shared their excitement as they prepare for the next phase of their lives, be that college, apprenticeship or work."

Eastlea Community School was among the biggest improvers, with 51 per cent of pupils achieving 4+ in English Literature, English Language and Maths. Head teacher Stephen Gillatt said: "I am thrilled that all of the hard work that our wonderful students have put in, has paid off for so many of them.

"It is important that our students leave Eastlea able to compete with other students from across the country for places at top colleges and universities. We believe that there is no limit to what our students can achieve and their hard work, dedication and commitment has proved that. We are extremely proud of each and every one of our students and wish them every success in their future studies and careers."