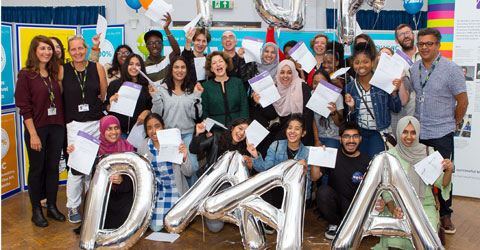 ​​Students in Newham are celebrating after achieving their BTEC and A Level results.
More than 1,400 young people sat A Level exams in the borough this summer, and provisional results released on 15 August show some great achievements.

Councillor Julianne Marriott, Cabinet Member for Education and Councillor Jane Lofthouse, Deputy Member for Education, celebrated with students who collected results for their BTEC and A Levels.

Students at NewVic College were celebrating remarkable results in a range of different subjects and were looking forward to future plans which included university, apprenticeships and internships.

Jothy Jain achieved DDM in Applied Science BTEC, which means she was awarded a place on an apprenticeship at a pharmacy in Plaistow. This route suits her as it means she can stay in Newham and study alongside gaining some real work experience.

Nawshad Rahman who received A*, A, A in Maths, Physics and Chemistry A Levels was looking forward to celebrating with his parents. His achievements are particularly impressive as he moved to the UK from Italy in 2015 and only spoke limited English on his arrival.

Grace Culverhouse is looking forward to studying at Bournemouth University. She initially started studying A Levels at NewVic but after falling ill, she decided to switch to BTEC Business. Thanks to her hard work and a DDM grade, she received a scholarship of £1,000 from the university which will help with her finances when she moves next month.

Twins Tasnia, and Nafisa Uddin both got triple As in Chemistry, Biology and Maths A Levels. This is a significant achievement as the sisters started at the college three years ago with a basic level of English and no GCSEs and joined NewVic's progress to advanced course which is designed for young people in their situation.

Bogdan Csomos achieved a DDD* in Sports Fitness BTEC. He will now taking a gap year before applying to study Sports Science at university.

Councillor Marriott said: "Being at NewVIc today and seeing all the talented students, it just proves that it doesn't matter where you come from and whether you study BTECs or A Levels, our young people have the chance to succeed and achieve whatever they want to. I met young people with many different stories - students who've been ill or realised they first chose the wrong course or arrived from abroad at 15 - all getting great BTEC and A Level results and are now off to apprenticeships, jobs or university. Achievement is not just about getting a string of As, which is of course still fantastic - it's also about working hard to gain qualifications when faced with adversity."

Councillor Jane Lofthouse said: "It was wonderful to see so many happy faces at NewVic. I was amazed by some of the stories I heard and the challenges some of these young people have faced while studying. Newham's young people have demonstrated how hard work and determination can lead to some fantastic achievements and they should be very proud of themselves."

Some of the highlights from Newham's schools and colleges are:
Students at Chobham Academy Sixth Form achieved 51% A*-C grades
London Academy of Excellence achieved 65% A*-A grades and 99% A*-C grades.
NewVic students achieved 65% A*-C grades
Students at School21 achieved 52% A*-C grades.
Students at St Angela's Ursuline School Sixth Form achieved 78% A*-C grades
Students at St Bonaventure's Catholic School Sixth Form achieved 66% A*-C grades.