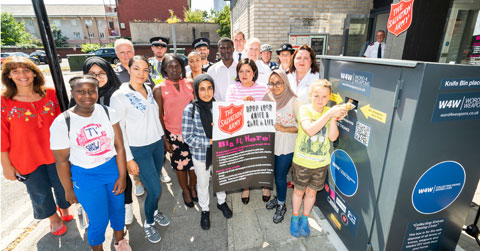 Newham's first street facing knife amnesty bin has been opened in Stratford to encourage people holding blades to surrender them.
The bin was installed by Word 4 Weapons, the UK's leading weapons surrender charity. It was launched at a short event, hosted by the Salvation Army and attended by Mayor Rokhsana Fiaz and representatives from the local community.
The bin, which sits outside the Salvation Army centre in Paul Street, Stratford, has been jointly funded by Transform Newham, an informal network of local churches, and Newham Council - the £4000 rais​ed will keep it operational for five years.
Mayor of Newham Rokhsana Fiaz, who attended and spoke at the event, said: "I welcome the installation of this knife bin, and thank Transform Newham for taking the lead in making it happen – we as a council are proud to have played our part in funding it.
"Since I was elected last year, I have made keeping our young people safe one of my top priorities – that's why I have invested an extra £1.4 million expanding youth services in the borough. This investment seals a promise I made to young people when I was elected, that I would do everything in my power to keep them safe. I would urge anyone who is carrying a blade to make use of the bin – and reduce the risk to your life that comes with carrying a knife."
Captain Lee Raggett, one of the leaders of the Salvation Army in Stratford, said: "On behalf of the local community, we're extremely grateful to Transform Newham for their funding and to the London Borough of Newham for matching it.
Dr Sally Mann, Senior Minister of Bonny Downs Baptist Church, said: "I'd like to say a special thank you to all the local people who have contributed to our campaign and helped fund the only street level knife surrender bin in Newham. Every weapon taken out of use helps to make our community a little bit safer. If this bin helps just one person to change their behaviour, it will help to save precious lives in East London."
How to dispose of knives safely
The safest way to dispose of knives and prevent them from falling into the wrong hands is to use a knife bin. Knife bins are professionally constructed and carefully designed to ensure maximum safety. To wrap a knife safely, you will need newspaper or cardboard and sticky tape.
To avoid personal injury, do not handle the sharp blade side of the knife.
Using a few sheets of paper or cardboard, carefully wrap the knife so that the blade cannot pierce through.
Then seal with lots of sticky tape to stop the knife from being easily removed or coming out of its wrapping.
Once you have ensured that the knife is well wrapped and secured in case you are challenged, take it to the knife bin outside the Salvation Army church, 1 Paul Street, Stratford, E15 4QB and place gently through the slot into the secure bin. Alternatively, if more convenient, there is also a knife bin located at the front office of Forest Gate police station.
​