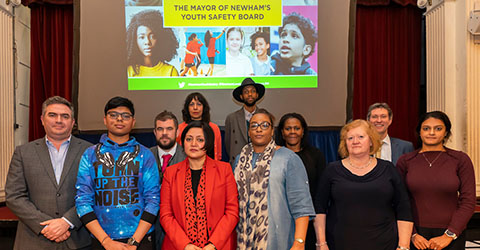 Mayor of Newham Rokhsana Fiaz has committed to making the borough the best place to be a young person and has called on everyone to work with her and the Youth Safety Board she created to achieve this ambition and end violence against young people.
​The Board was created in March 2019. It is a partnership between young people, families who have experienced the effects of crime and violence, Newham Council, police, and health and education services. It is led by the Mayor and Duncan Bew, a surgeon, anti-knife campaigner and leading expert in violence reduction.
An event at the Old Town Hall in Stratford brought together key people who can help turn the Board's first report into action.
Mayor Fiaz said: "Tackling violence an exploitation is a serious and urgent issue and a personal priority. The Board has done a lot of listening and learning and we have got some really challenging issues that we must deal with together, including looking for ways to prevent violence."
The Board's report is based on five principles.
They are:
putting young people at the heart of decisions – young people have been involved in the process
making sure every young person has a trusted, safe adult in their life – this could be a youth worker, teacher, or foster carer
think whole family – families are often the first to notice something isn't right
always look for positive opportunities – working with education and business providers to offer young people access to something they love doing
joined-up support – everyone working together to make a change.
The Mayor added: "Young people know what's going on – that's why we need them to be part of the solutions. We also need to make sure every young person has someone who is there for them and wants the best for them.
"We can and we will do better. Violence can be prevented and it needn't be part of anyone's childhood. Newham is an amazing community and if we work together we can achieve so much. We must never forget that the most amazing thing about this borough is our young people and their creativity and their potential."
The Mayor paid tribute to all the organisations that have been taking action. She dedicated the Board's first report to young people who have lost their lives to violence and the families who are suffering the pain of loss. The Mayor told them: "We need you to know we will strive together to make sure other families and young people do not go through what you had to face. And we will listen to you and learn from your experience."
The Mayor also used the event to formally welcome a new team of 40 youth workers who are part of proposals for a massive expansion of young people's access to youth services, including a plan to increase the number of youth zones from four to eight so that every young person will have great opportunities on their doorstep. Young people themselves were given a say in the hiring of the youth workers.
The event officially introduced Geeta Subramaniam-Mooney, Newham's first Commissioner for Children and Young People's services. She will lead the Council's approach to decriminalising young people caught up in violence and harness the efforts of the Council and its partners to safeguard young people and direct them into positive lifestyle choices.
Celebrating the report she said: "This is an important, yet sad reminder about the reality of what life is like for our young people as they navigate their daily lives. We all need to take responsibility for changing the current situation - our children and young people deserve the best throughout their childhoods and into adulthood.
"This community and youth led report will form the foundation upon which everyone must now take action. Violence is not normal and can be prevented - it is an urgent imperative that we all take collective action to ensure our children do not experience violence in their lives.
At the centre of the report launch event was young people themselves, taking part in 'talkaoke' discussions about youth empowerment with The People Speak team. This involved conversations around an illuminated table with participants speaking when they wanted to.
There was also an Unlecture process with the whole audience taking part in open round table discussions and debates in a game-show type atmosphere to encourage creative and diverse opinions and perspectives. A flash mob performance from youth dance troupe IMD Legion was the inspirational hit of the evening.
To read the Board's report visit: www.newham.gov.uk/youthsafetyboard​