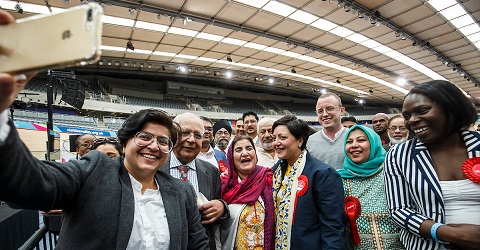 After 23 years Newham Council has a new Mayor, a new look council, and the promise of a new way of doing things that puts people at the heart of everything.
Thursday's local election saw Councillor Rokhsana Fiaz returned as the Mayor of Newham, to become the first woman directly elected as leader of a London borough and the first female woman of colour to be elected Mayor in the UK.
Rokhsana grew up in Newham and was elected a Labour councillor in Custom House ward in May 2014. Prior to her election as Mayor of Newham, she served as a Chair of Scrutiny leading on regeneration and housing; and was a member of the council's Audit Board and Strategic Development Committee.
During her time as a councillor she has worked with a variety of community groups and advocated across a range of issues affecting residents in Custom House and across Newham including housing, homelessness, regeneration, the London Stadium investment, council loans, Stop and Search and youth services provision.
In addition to her councillor role, professionally she was most recently the CEO of an international UNESCO supported charity promoting interfaith and global citizenship and in a career spanning 25 years has undertaken projects for local authorities, the European Commission and the Council of Europe. In June 2009, Rokhsana was honoured with the Officer of the Order of the British Empire (OBE) for services to Black and Minority Communities in the UK.
The ballot result, also delivered a total of 27 first time councillors, including for the first time 28 women, up from 23 at the last election. All councillors elected were from the Labour Party.
Speaking after her victory Rokhsana said: "I would like to thank the people of Newham for putting their faith and trust in me, in Labour, and in my vision for our borough. This council will not only look very different, but will be different with more transparency, accountability and residents involved in decision making.
"As Mayor, I will put the people of Newham at the heart of everything I do. This will be a collaborative joint enterprise between residents, myself, councillors and the council."
During the election campaign Rokhsana set out her priorities as housing, young people, democratic inclusion and accountability. She promised:
To deliver 1,000 new homes at social rent in the first four years

To double the number of youth hubs in the borough, establish a Youth Safety Board and enhance youth service provision
To ensure full scrutiny of the council's decisions, including a thorough review of the council's accounts
To give residents a meaningful voice and access to decision making
Rokhsana said: "I am delighted that the age, gender and ethnic background of our the 60 Labour councillors more accurately reflects our young and diverse borough.
"It doesn't stop with this election; this is just the start. This council under my leadership will open a dialogue with our residents to ensure they have a stake in their own futures and the future of the borough. That's why my inaugural event will be a citizen assembly with our young residents living in the borough.
"It is critical that at this time of increased violence facing young people, we hear from them about their experiences, their hopes and their solutions; and work with them to make Newham a safe place for them."
The Mayor has promised the youth citizen assembly will not be a one-off as she intends to use this model, where people directly have a chance to deliberate and make recommendations on a range of local issues, as a focus of decision-making processes of the council.
Rokhsana stressed that her people focused approach will include how to best develop, deliver and fund genuinely affordable housing including many more at social rent levels.
"Make no mistake the challenge we face to provide decent and genuinely affordable housing for our people is huge one. After eight years of falling living standards under a Tory government that is starving councils of cash, slashing local services that people depend on from policing to social care, many are left without hope.
"This council will fight hard to make sure decent genuinely affordable housing is the right of the many, not the few."
The Mayor also laid out her plans for opening up the way the council will work in order to harness the full talents of the council body and deliver for Newham residents.
"The people of Newham have returned a body of representatives which not only reflects the diversity of our residents, but has the same high aspirations as them. I look forward to working with members to bring on board their experiences and talents so that we all deliver the best for our residents.
"As Mayor I will work with our residents, with the council and with my cabinet so that we can make a real difference for all our communities in Newham; including transforming the borough where everyone has a role in shaping it's future so that it is stronger, safer, cleaner and fairer."
Full Mayoral result:
| ​​Election candidate | ​Party | ​Votes | ​% | ​ |
| --- | --- | --- | --- | --- |
| Rokhsana Fiaz​ | ​Labour | ​53,214 | ​73.43 | ​Elected |
| Rahima Khatun | ​Conservative | ​8,627 | ​11.90 | ​Not elected |
| Gareth Benjamin​ Evans | ​Liberal Democrats | ​6,809 | ​9.40 | ​Not elected |
| Chishala Tiffany Kumalinga​ | ​Christian Peoples Alliance | ​2,008 | ​2.77 | ​Not elected |
| Daniel Charles Oxley​ | ​Democrats and Veterans Party | ​1,815 | ​2.50 | ​​Not elected |