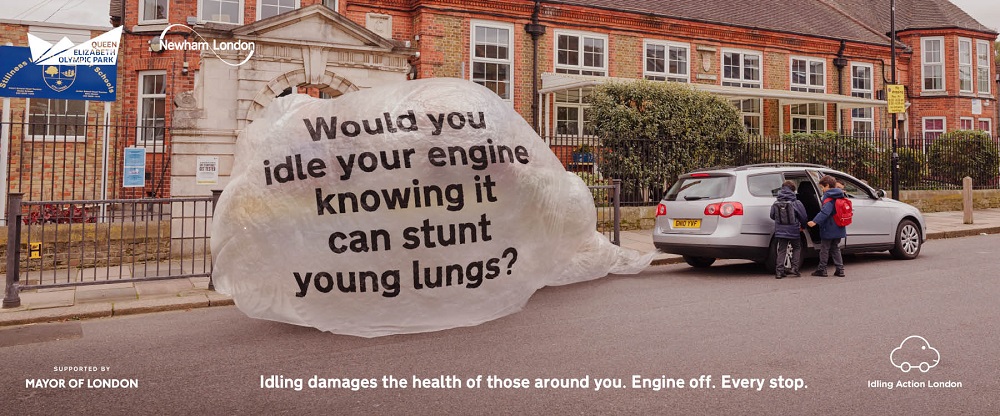 Newham Council is supporting the London-wide anti-idling campaign 'Engine Off. Every Stop' this November, as part of its pledge to improve air quality for residents.
Led by Idling Action London and supported by the Mayor of London, the 'Engine Off. Every Stop' campaign, from November 1 – November 30, aims to improve air quality and reduce air pollution simply by asking London drivers to simply turn their engines off when stationary to stop the spread of this invisible killer.

According to UK Health Security Agency, Newham residents are exposed to high levels of toxic pollution from vehicles, contributing to the highest death rate in England.

The borough's primary schools are in areas that exceed World Health Organisation pollution limits, making Newham's children vulnerable to the effects of air pollution. New Asthma UK and British Lung Foundation research also shows that Newham is the most affected borough in London for people living with asthma and they are more likely to be hospitalised.

Mayor of Newham Council, Rokhsana Fiaz, said:

"This November we are again proud to be part of the 'Engine Off. Every Stop' campaign as part of our ongoing commitment to improving air quality for residents.

"Our borough knows more than most the deadly cost of poor air quality. Some 4,500 children are hospitalised and 96 people die each year due to poor air quality. Our residents have a right to breathe clean air and we are determined to take the steps needed to achieve that.

"Over the past 2 years Newham Council has taken sustained and transformative action to improve our air quality and the health of the borough, and we will continue to do so.

"Improving air quality is therefore central to the Council's approach across a wide range of transport, planning and development strategies. This includes council staff training on how to reduce emissions when driving to deliver services as well as greening our fleet of vehicles by moving to electric.

"We are determined to do what is needed, working with residents, to make Newham a place where everyone can breathe clean air."

A 2020 research study with Transport Research Laboratory found that it can cost up to 3p for every minute spent idling. If that vehicle idled for 10 minutes per day within 6 months, that would equate to a cost of over £58. The study also showed that idling for just 30 seconds produces twice as much pollution and wastes more fuel than switching off and restarting your engine.

We ask our businesses, residents, schools, and community groups to join us and get involved by signing the Engines Off pledge. The free toolkits and resources provide easy and practical steps to tackling this source of air pollution. For more information about how to get involved, visit www.idlingaction.london

The campaign is a Mayor's Air Quality Fund project that sees 30 local authorities working together to tackle engine idling as a source of avoidable air pollution.