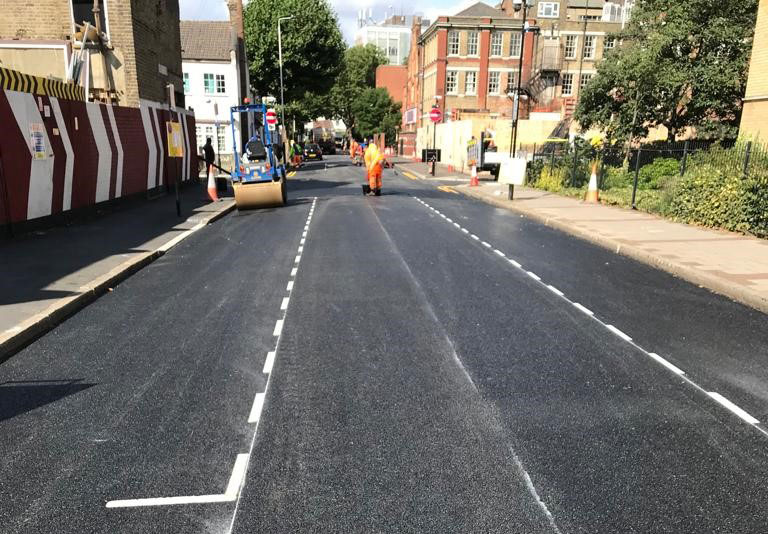 The Council is delivering £14.5m of road and pavement improvements and maintenance across the borough as part of its Keep Newham Moving programme during 2021/2022.
Since 2016, the Council has completed over 84km of road improvements, which is twice the length of the North Circular. It is prioritising the busiest roads and those with schools, hospitals, places of worship and shops.

As part of the work to improve the condition of the roads the Council has introduced a new approach to repairs in addition to the full resurfacing programme. The new repair approach will also ensure potholes repairs are more effective, long-lasting, and more cost effective, as demanded by residents.

Cabinet Lead for Environment, Highways and Sustainable Transport, Councillor James Asser said:

"Over the last few years we have been investing on average £10m a year in renewing Newham's roads and pavements as part of the Keep Newham Moving programme. We have agreed that programme for another year; but we are also listening to feedback and have made some changes to meet the requests from residents and businesses.

"We are putting greater focus on the key roads nears shops and schools and we have introduced a new programme of road patching work to ensure smaller road repairs are more effective and last longer. This will tackle more potholes and damaged roads as well as improving the quality of our public areas.

"It is essential to ensure the safety of the highway and enable all forms of travel including walking, cycling and driving. Having a well-maintained highway also supports the borough's inclusive economic growth, education, employment opportunities and access to healthcare.

"We are delivering a more accessible and modern Newham that works for all our residents, businesses and visitors."

Since the programme launched in 2016 the Council has put in place:
150 drains
170km length of white line road markings
84km of resurfaced, or reconstructed pavements
140km of resurfaced or reconstructed footways
This year so far 2350 square metres of patching
In addition to the Keeping Newham Moving Programme, the Council is also repairing on average 1500 potholes a year.

Footway reconstruction work is currently underway at the following roads:
Saxon Road – Footway works completed
Stokes Road – Footway works on going
Hale Road – Footway works completed
Roman Road – Planned work about to start
Hampton Road (Conservation area) – Footway works on going
Nelson Street – Carriageway resurfacing
Valerian Way – Footway repairs and replanting of new trees
Maryland Park – Footway and carriageway resurfacing outside school
Full carriageway resurfacing will commence once all footway works are completed.