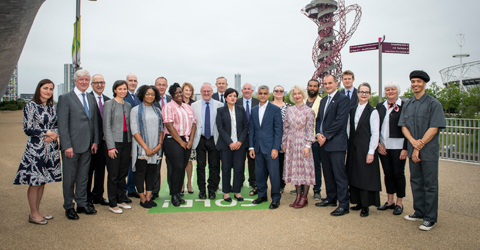 World-class institutions in culture, education and innovation will be making New​ham their home as part of East Bank, a £1.1bn project in Queen Elizabeth Olympic Park (QEOP).
The BBC, UCL, the London College of Fashion, Sadler's Wells and the V&A in partnership with the Smithsonian Institution will all form East Bank, set out today by Mayor of London Sadiq Khan.
The Ministry of Housing, Communities and Local Government also confirmed £151 million to contribute towards the delivery of East Bank which will create 1,500 jobs, £1.5 billion of economic benefit and 600 new homes.
New plans and building design were unveiled and it was announced the BBC will be moving to QEOP creating a new home for the world-renowned BBC Symphony Orchestra & Chorus and BBC Singers. There will also be a substantial presence for the BBC Concert Orchestra and state-of-the-art recording facilities to host recording sessions and live performances across all genres.
The Mayor of London also announced at least 50 per cent of new homes across the remaining development sites on the park – Stratford Waterfront, Pudding Mill and Rick Roberts Way – will be affordable, in line with his commitment that all sites he disposes of will be at least 50 per cent affordable.
Mayor of Newham Rokhsana Fiaz was at the launch of the vision and said: "I welcome the news today regarding the East Bank on Queen Elizabeth Park. This new development will create many opportunities for our young people, unleashing their creativity and bring leaders in music, theatre and arts to East London. In return, East Bank will benefit and learn from the diverse, eclectic talent here in Newham.
"It is also essential housing remains a priority within the park. Building new homes that are genuinely affordable is the only way to tackle the housing crisis and it is essential that we put pressure on developers to provide more affordable homes for our residents. Housing is my biggest priority and I have pledged to build at least 1,000 council-owned, social rent homes in Newham in the next four years and ensure that over 50% of all homes being built in Newham are let at social rent levels. I have been listening to the concerns of residents regarding affordable housing and will continue to do so as I work towards providing real solutions for thousands of Newham families looking for somewhere sustainable to live."