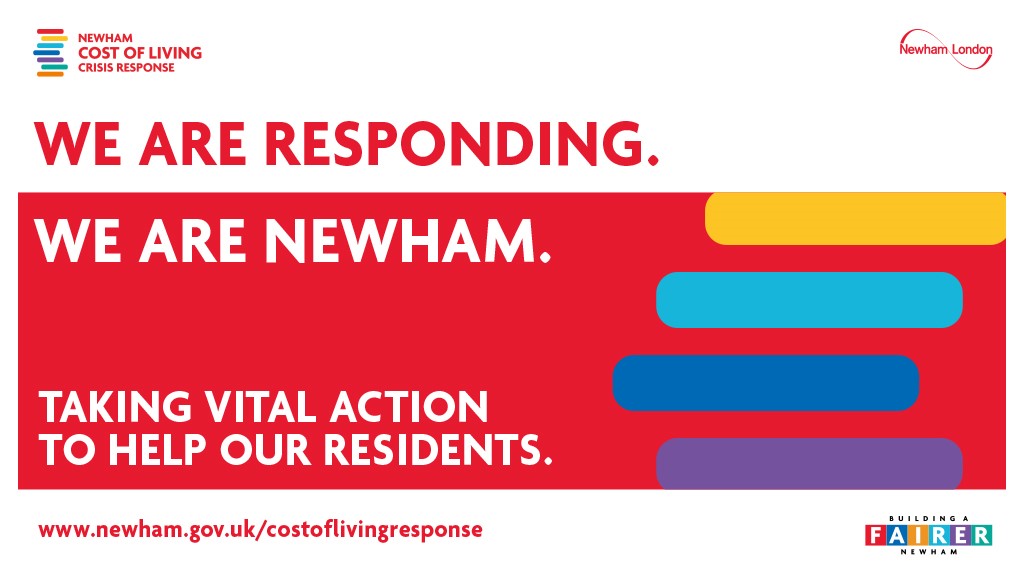 The Mayor of Newham, Rokhsana Fiaz OBE, launched the Newham Cost of Living Crisis Response at a summit earlier this month, attended by over 150 partners from across the voluntary, community and faith sectors.
Sharing new research published into the impact of the Cost of Living emergency on Newham residents, the summit included discussions on the most critical actions needed to make a difference, building on the lessons from the Covid-19 crisis.
The cost of living emergency will hit UK householders harder than any other country in Europe – but most extreme in Newham where thousands of residents will face catastrophic financial instability due to inflation, soaring energy bills, housing costs that follows more than 12 years of austerity. The ethnic diversity of our young borough population means that Newham residents face structural inequalities that leave them disproportionality vulnerable to the cost of living emergency. However, Covid-19 proved in times of crisis our community response can make a fundamental difference.
It is clear that national government has a responsibility to take urgent action but even with this intervention, more has to be done locally driven by our collective efforts. The commitments made by the summit will be collated into our borough-wide action plan and our progress reported back on over the coming months:
An Action Plan will be produced and shared with Summit participants, alongside another meeting to be convened.
The Mayor's Cost of Living Taskforce – meeting monthly, this group will oversee and drive delivery of the plan.
A resident event will be planned so we can talk directly to the community about how we are responding and supporting them.
A business focused event where we will talk to local small businesses about what support we could offer them, while also talking to larger businesses about what they can offer our residents.
We will lobby the new government for a fairer deal for Newham residents. This will include joining the Mayor of London in lobbying for a two year rent freeze.
These actions will directly address the findings of research commissioned by the Council that highlights the disproportionate impact the crisis is having in the borough:
Energy: Newham has the second highest fuel poverty rate in London and the 21

st

highest fuel poverty rate nationally.
Housing conditions: approximately one-in-seven households live in the least energy efficient accommodation (below Band E) and are most impacted by hikes in the energy price cap.
Housing tenure: Newham has the highest proportion of people renting privately of any borough in London, with private renters significantly more likely to be in fuel poverty.
Rent levels: the mean monthly rent for a 3-bed property is £1,824. Real life rental postings analysis show that the ONS' March 2022 data significantly underplays rent increases.
Average income per household: £19,465 compared to the London average of £29,362.
Structural inequalities: young people and people of colour are disproportionately affected by the cost of living crisis. This is due to structural inequalities that they face impacting them more.
The full discussion from the Cost of Living Crisis Response Summit will be used to create an action plan that the Council will deliver with partners over the coming weeks. Understanding the concerns that many residents and businesses feel, further events will be held to bring together communities and businesses to share insights and work together on identifying actions needed to make a difference.
Alongside that, we have announced today our commitment to work with partners to deliver 'warm havens', where libraries, leisure centres, community buildings, NHS buildings and other suitable places will be made available to those in need. People will also be able to have hot meals in warm rooms provided by the Newham Food Alliance.
Exact locations and timings will be announced as soon as possible, along with interactive maps to help residents find venues. We will do all we can to improve how people can access the support and entitlements they which they are eligible for. This will happen through specialist teams, outreach sessions and targeting faith and community groups.
Mayor of Newham, Rokhsana Fiaz OBE said: "The Cost of Living emergency will be catastrophic in Newham as new research we published shows, leaving our residents disproportionally impacted by steep rises in energy, food and housing costs. We are committed to building a fairer borough where no one is left behind and so we are taking urgent action to help.
"Our summit brought together over 150 leaders in the voluntary, community and faith sectors as well as emergency services who shared their insight, ideas and determination to work collectively with us. We know that in any crisis, our community comes together and has the strength to make a difference. The Cost of Living Crisis response will be no different.
"We have to act with urgency, which is why we have already announced a comprehensive range of additional support for residents. This includes ensuring every resident accesses the entitlements they deserve."
West Ham United Foundation CEO, Joseph Lyons said: "It is so important that we work together in Newham to support people suffering in the cost of living crisis. I was happy to be part of this group effort with Mayor Fiaz and the Foundation will do all it can to support partners in Newham with the cost of living crisis response. Collaboration is crucial between all of the voluntary groups, to then work with all of the public sector, whilst also bringing in the private sector. These three sectors working together will get us through this crisis in Newham."