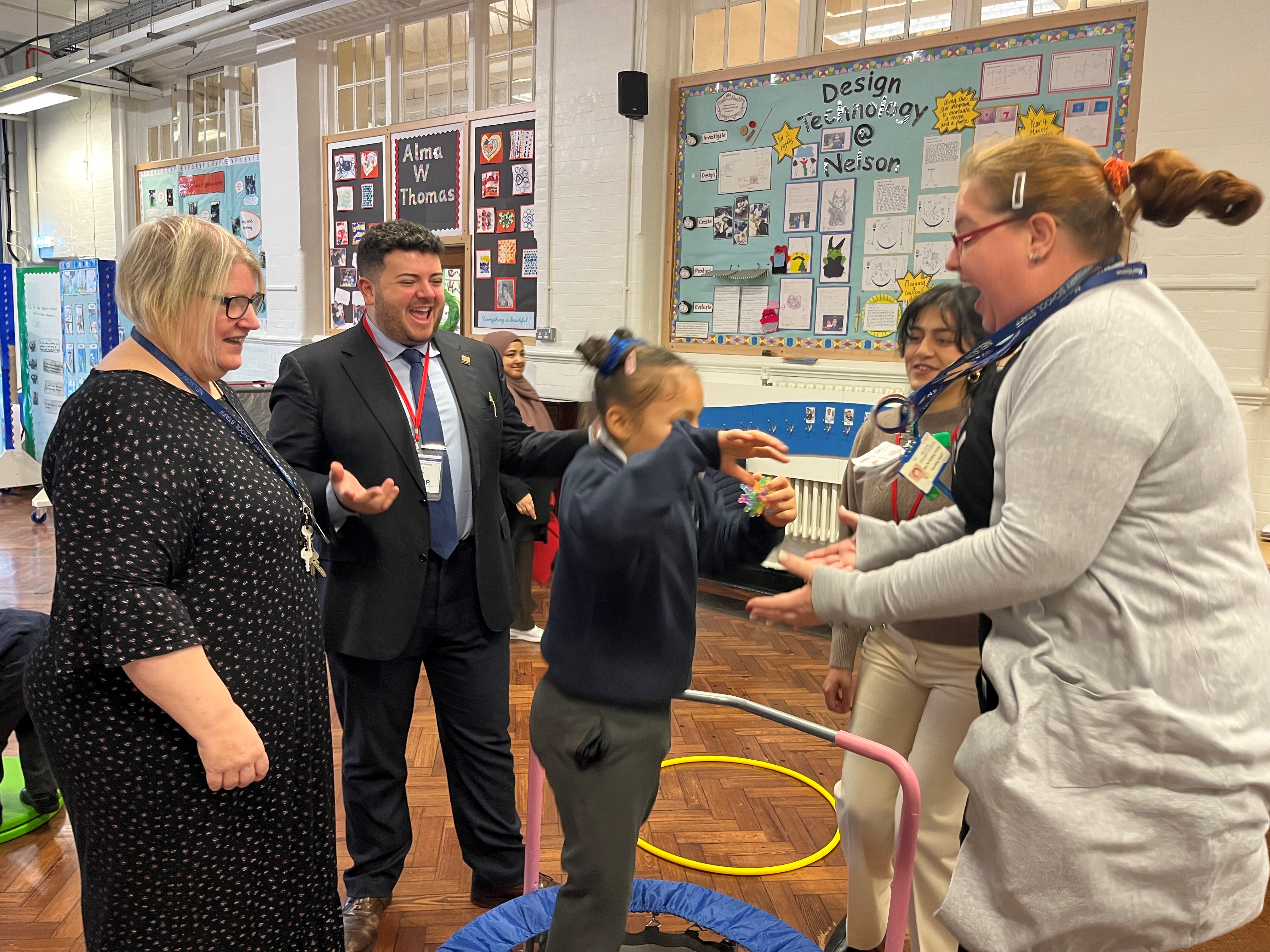 Education and Health Care Plan (EHCP) backlog cleared three months ahead of schedule, freeing up resources to meet its 75 % target
SEND Improvement journey progressing following a restructured service
Newham Council received an update from Councillor Joshua Garfield, the Cabinet member for Education, Skills and Lifelong Learning on its Special educational needs and disabilities (SEND) improvement journey.
The meeting heard that the service has cleared its backlog of EHCPs (a document which sets out the education, healthcare and social care needs of a child or young person for whom extra support is needed in school, beyond that which the school can provide), three months ahead of schedule, freeing up resources to meet the 75% target.
Earlier that day Cllr Garfield and Councillor Mariam Dawood, Deputy Cabinet Member for Education, visited Nelson Primary School, where Headteacher Fiona Cullen and the school's special educational needs and/or disabilities coordinator, (SENCO) Chrissy Beddo leads an inclusive school community with teaching staff that meet the challenges of children with SEND, seeing the school's innovative approach in action.
Newham has a proud history of inclusion, ensuring all children and young people are supported to reach their potential as part of the whole school community
Councillor Joshua Garfield said: "Nelson Primary School is a shining example of the inclusion we want to see right across the borough. As a former Newham pupil, inclusive education feels obvious, but schools like Nelson go above and beyond to include all pupils. Hearing about the level of teaching support SEND pupils receive at Nelson was really encouraging, and it was a joy to see these children thriving in a whole school environment.
"Our ambition is to continue this level of inclusion right across the borough, while providing families with high needs places in the borough for children with the most acute needs. Having more children educated in their home communities and near their support networks is vital for their inclusion in our family of schools."
​Councillor Mariam Dawood, Deputy Cabinet Member for Education, Skills and Lifelong Learning said : "We have listened to our families in Newham and are investing into SEND services that champion inclusion. Over the last few months, we have been visiting particular schools to see first-hand how SEND services benefit all children in classrooms and beyond. It was a privilege to see that successful work on the ground in Nelson Primary.'
Newham's SEND improvement Journey
Following the Joint Area Inspection of Newham's SEND provision in 2021, four key areas of improvement were identified, the timely delivery of quality Education Health and Care Plans (EHCPs) being one of them.
In June 2022, Newham Council published their Written Statement of Action, a legally mandated document detailing how they were going to achieve improvements in the service, including on co-production and EHCP turnaround
Cabinet agreed additional funding for the service in July 2022, with Councillor Joshua Garfield, Cabinet Member for Education, promising to clear the EHCP backlog by March 2023 and to reach a target of 75% of all EHCPs completed within 20 weeks by September 2023
EHCPs received by Newham now are all being delivered within 30 weeks, and our year-long average will be within 20 weeks ahead of the September deadline
With the SEND service restructure, the Council's focus is now on service delivery, co-production and ensuring children and young people get the best possible support in their school or educational setting.