Newham Council has expanded the availability of electric vehicle charging points across the borough with the launch of 80 new on-street charging points.
The new charging points, made available through Allego, are part of the borough's ongoing efforts to provide residents with greener transport options in our effort to tackle the climate emergency in Newham.
The 40 dual socket fast chargers provide 22 kW of power and have the ability to charge most cars and vans in around 2 to 4 hours.
Drivers who want to connect to the new charging points can make payment per kW via the Smoov App as a guest or with an account using a range of cards including VISA, Maestro & Amex.
Access is also available via any of the interoperable partners including EV Box, New Motion, Chargemap, Charge Point, Charge4europe, Engie, Franklin Energy, Travelcard, Gireve and Hubject.
We are now progressing with the next phase of electric vehicle charging points, working together with our partners Siemens Ubitricity, to introduce lamp column chargers. These chargers can be installed by modifying existing lamp columns and therefore can be implemented in almost any street. They will charge at a slower rate than our Allego chargers but are easier and cheaper to install, and will allow us to deliver more of them across the borough with the funding available. We have used the information you have already provided to us through the 'Suggest a location' interactive map to decide on the locations for these lamp column chargers and we will be confirming our final list of sites shortly. Once the sites are up and running we will provide more information on this page.
Parking spaces for electric vehicles
Dedicated parking spaces are now available in Newham for people to charge their electric vehicles.
These spaces are not available to non-electric vehicles.
The electric vehicle parking bays are designed for short stay durations of up to 4 hours to enable charging to take place and to then encourage turnover of the electric charging point so that it is available for other electric vehicles to use.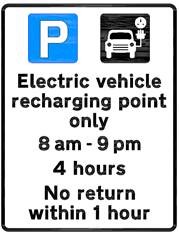 Residents with plug-in electric vehicles will still need a permit to park their vehicle elsewhere in their residential parking zone when the vehicle is not charging in the designated bay. There are no emissions based charges for electric vehicles, meaning the first permit is free. If a household has more than one vehicle, there would be an additional vehicle supplement of £100 for the second vehicle.
Why go electric?
Thinking about making the switch to an electric vehicle but don't know where to start? Find out everything you need to know at Go Ultra Low.
Running costs are lower than petrol and diesel vehicles and electric vehicles have no tailpipe emissions of CO2 or other air pollutants which have a detrimental effect on human health.
Other benefits of running an electric vehicle in Newham include:
Access to on-street charging points alongside dedicated electric vehicle bays where it is free to park (for up to four hours) while you charge
Free first parking permit for Newham residents with an electric vehicle.
100 percent cleaner car discount on the congestion charge or ULEZ charge.
Charging points for private homes
Government grants are available to purchase electric vehicles and/or to have a home charger installed if you have a driveway.