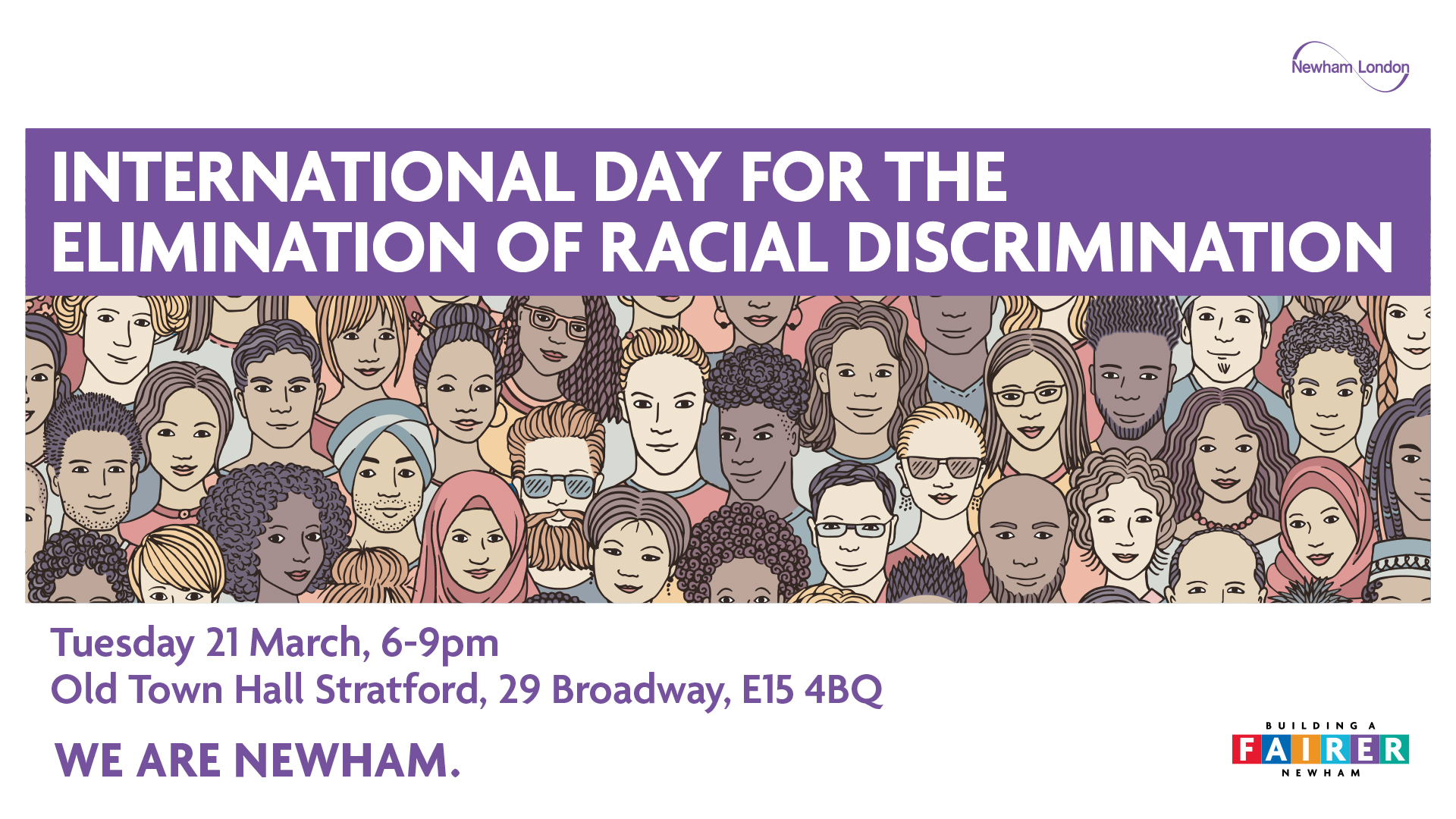 International Day for the Elimination of Racial Discrimination.
In person event at Stratford Old Town Hall on Tuesday 21 March from 6-9 pm
Discussions with guest speaker, Author Pauline Campbell
To commemorate International Day for the Elimination of Racial Discrimination (IDERD), Newham Council will hold an event at the Old Town Hall Stratford on Tuesday 21 March, from 6-9pm.

International Day for the Elimination of Racial Discrimination is an annual event which remembers the day the police in Sharpeville, South Africa, opened fire and killed 69 people at a peaceful demonstration against apartheid "pass laws" in 1960.

The guest speaker Pauline Campbell, published author of Rice & Peas and Fish & Chips and Senior Lawyer at Waltham Forest, will be in conversation with the event's facilitator Shanea Oldham, a local young person who is a successful writer, project leader and co-ordinator. They will have discussions on the discriminatory violence enacted upon communities, the healing and repair needed, and the creation of communities that centre justice, imagination and compassion.

Until recently, author Pauline Campbell was a Supervising Lawyer on the Windrush Justice Clinic and her book, Rice & Peas and Fish & Chips is part memoir, part commentary which uncovers modern Britain's structural racist past across politics, law, and education.
Shanea Oldham, is a multi-award winner for promoting solidarity and peace, a creative, experienced and driven practitioner. She has experience of working with teens and youth in education and community settings within Newham and across the country, her work centres at supporting the emotional well-being and growth of marginalised youth.

There will be poetry reflecting fighting discrimination performed by local poets Zita Holbourne and Fahima Hersi.

Rights and Equalities in Newham (REIN) and BARAC UK will be promoting their work around eliminating racial discrimination and promoting equality of opportunity, justice and good relations between persons of different racial groups.

Light refreshments will be provided.

If you would like to participate in the conversation, book a place via eventbrite.