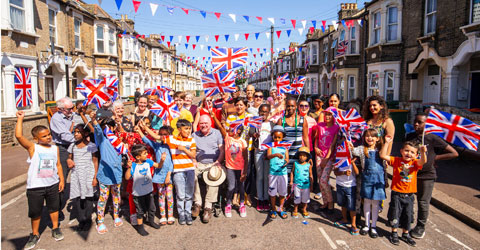 Mayor Rokhsana Fiaz joined residents who threw a party outside their homes in Ling Road, Canning Town, on Saturday to celebrate the wedding of Prince Harry and Meghan Markle.
The whole street was closed to traffic and red, white and blue bunting was hung between the terraced houses. Windows were also adorned with Union flags and people wore face masks of the happy couple.

Residents young and old enjoyed music, food, fun and games. Mayor Fiaz said: "It was really great to see neighbours coming together to celebrate. I had a wonderful time with the residents. Congratulations to the new Duke and Duchess of Sussex."

The street party was just one supported by a grant from Newham Council's Let's Get the Party Started fund. Deputy Mayor Councillor Charlene McLean and Councillor John Gray, Cabinet member for housing services, visited parties at the Holden Point sheltered housing scheme and the Community Road community centre, both in Stratford.

The Mayor had previously celebrated the royal nuptials with pupils from Sandringham Primary School in Manor Park.