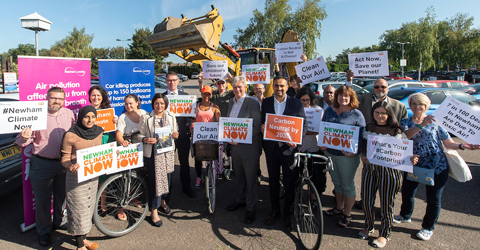 The Mayor of Newham, Rokhsana Fiaz has today visited staff at Newham University Hospital (NUH) where she launched a consultation on draft plans to tackle poor air quality in the borough which kills 96 residents every year.
The staff at NUH know first-hand the toll poor air quality has on residents and see, every day on the wards and in A&E, cases of asthma, respiratory disease, cardiovascular disease and even cancer.
One in seven (14%) of Newham's population are exposed to levels of Nitrogen dioxide (NO2) that are above the UK limit value for human health, while on average, Newham residents are also exposed to a level of airborne particulate matter (PM2.5) that is 35% greater than the World Health Organisation guidelines.
This year Newham Council has begun to set out a range of environmental measures to tackle the negative effects of air pollution head on. This has included drafting an 'Air Quality Action Plan' which proposes actions for Newham Council to deliver between 2019 and 2024. The proposed actions aim to reduce pollution and improve the quality of life, health, and welfare of our residents.
To ensure people are at the heart of the changes we propose, the council today launched a consultation and wants to hear your views, observations, opinions and ideas.
The final policies and decision will be informed by all responses to the consultation. See www.newham.gov.uk/airpollutionconsultation
This consultation closes on 14 October 2019 and responses will need to be received by this date.
Mayor Rokhsana Fiaz said: "There is no do nothing option – people are dying and this administration is determined to play its part in tackling the world climate emergency. I want Newham residents, businesses and partners to recognise the scale of that emergency and join us in playing their part. This is not a problem. It's not an issue. It's a full blown emergency.
"I really want everyone to take part in this consultation, our partners like Newham Hospital, our community groups like South Plaistow Big Local, our businesses and our residents so we can design the best possible solutions to deliver safe air for us all to breathe, and start to tackle the emergency that faces our borough, our country and our planet. We have to bring everyone along with us on this journey if we are to really make a difference and start saving lives."
One of the most effective ways to tackle air pollution is to change the way people travel around the borough, encouraging a shift from car use to sustainable and cleaner alternatives like walking and cycling.
One of the most exciting projects running in the borough has been the development and opening up of the Greenway, which has created a unique 5 mile traffic-free walking and cycling route running diagonally across the borough from Wick Lane in the north west of the Borough in the Olympic Park to Beckton and Gallions Reach in the south east. The latest phase of the £15m scheme will see a new ramp built next to NUH giving access to the hundreds of hospital staff and visitors and opening up the option of making cleaner, greener journeys, while improving fitness and health.
Andrew Attfield, Associate Director for Public Health at Barts Health NHS Trust, said: "Barts Health welcome Newham Council's plan to improve air quality and reduce the harm caused by air pollution through Clean Air Hospital Frameworks for each of our hospitals, including Newham. The frameworks will set tough targets for reducing idling by our Patient Transport service, encourage greener ways to travel to the hospital and look at improving information to patients with respiratory disease, especially children with asthma."
At the consultation launch, and to mark a complete shift in policy to address air quality and climate change, Newham Council also unveiled its new branding umbrella which will sit across all areas of service delivery and policy. The "Newham Climate Now" brand will be used to tag the environmental measures which the council is, and will be developing, to tackle the negative effects of air pollution and climate change.
Commissioner for Air Quality and Climate Change Mas Patel said: "The "Newham Climate Now" brand will highlight how all council services, decisions and policy making can impact the environment. It is designed to focus attention on the Climate Emergency this borough and this planet faces. We hope it will highlight how the decisions we take as a council, and the choices made by businesses, communities and individuals impact the quality of the air we breathe, the quality of our water supply, the global warming emergency we face.
"Newham Climate Now" will keep environmental impacts at the heart of decision making, and we believe it will focus attention on the need to put air quality and climate change at the top of our list of priorities."