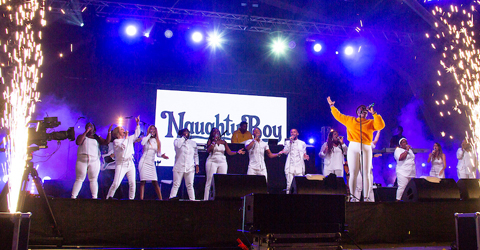 More than 20,000 residents in total flocked to East Ham's Central Park at the weekend to enjoy spectacular performances from world-renowned artists including Naughty Boy, Norman Jay MBE, and the Royal Philharmonic Orchestra set to a colourful backdrop of fireworks and flag-waving. ​
​Super producer Naughty Boy headlined the first of the two-night Newham Council-organised festival on Saturday and was joined on stage by a full band and singer ShezAr. Together they performed hits including Runnin' (Lose it all), and La La La, his collaborations with Beyoncé and Sam Smith respectively.
Opening the impressive set, Naughty Boy was joined on stage by Newham singer Byron Gold and the Gold Vocal Collective. The DJ had seen the group perform a Gospel version of Wonder, his song with Emeli Sande, and he invited them to join him to perform it.
Earlier the audience was treated to reggae from Musical Youth and lead singer Dennis Seaton who performed classic reggae hits including Is This Love, I Shot the Sheriff, and their number one Pass the Dutchie.
They were followed by dance troupe Coco Jam before DJ Norman Jay MBE took to the decks to perform a medley of disco, soul and funk hits from across the decades which had the park crowd dancing.
Sunday night saw a change of pace with the return of the much loved Royal Philharmonic Orchestra. The ensemble of 75 musicians covered a huge range of music from classical composers such as Mozart to pop songs from Abba and The Bee Gees, modern day film tracks including themes from Jurassic Park and James Bond, before finishing with classics including Elgar's Pomp and Circumstance March No.1 and Tchaikovsky's 1812 Overture set to a glittering flag-waving and fireworks finale. The music was conducted by John Rigby with vocals provided by Alison Jiear and baritone Ross Ramgobin.
The evening also featured performances from Newham Music's Bridging Sounds Orchestra and Newham's Young 'n' Gifted Choir who had been working in partnership with the Royal Philharmonic Orchestra on some original music which they performed on stage.
Mayor Rokhsana Fiaz said: "The spirits of more than 20,000 residents were lifted by a range of superb performances over two brilliant evenings. This was music bringing people and communities together in happiness, laughter and dancing. Newham was totally lit. Thank you to everyone who came along and demonstrated what an amazing borough we are."