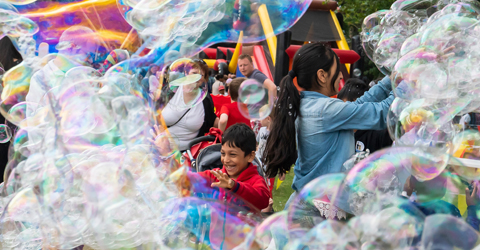 There was fun, laughter and smiles galore as more than 36,000 residents enjoyed the Newham Show at East Ham's Central Park over the weekend.
​The free event, organised by Newham Council, was a show with a difference this year because there was more great activity for young people, run by young people.
Mayor Rokhsana Fiaz said: "We had a real Glastonbury vibe going on this year but I have to say ours was probably better than Glasto! Our amazing young people took centre stage in their fantastic Youth Zone. There was creative sounds coming from the DJ and production workshops and I'm sure we uncovered some budding Calvin Harris's and Naughty Boy's."
The specially created beach and fun fair proved as popular as ever and the more energetic enjoyed the Sports Zone. For those wanting something more genteel, deckchairs and afternoon tea was available in the Big Top and Bandstand areas where afternoon delights ranged from the 282 (East Ham) Squadron Cadets Big Band, cool jazz, circus acts and illusionists. Three other stages also served up the best in local music and dance talent.
The very youngest children got to enjoy the wonders of the Peter Pan Neverland themed play area or the Children's Big Top where there was a disco takeover on both days by Raver Tots dance crew.
Much of the format of this year's show was influenced by residents from what they said at Citizen Assemblies. Added the Mayor: "I was really pleased by the new look Newham Show and I thank everyone who made it happen. We listened to what people wanted and there was so much to do, lots of fun, lots of laughter and loads of smiling faces with young people at the heart of it.
"It was fantastic for me to meet so many of our residents who came to join the fun. I can't wait to see them all again when we host the Under the Stars​ music nights in Central Park on August 10 and 11."