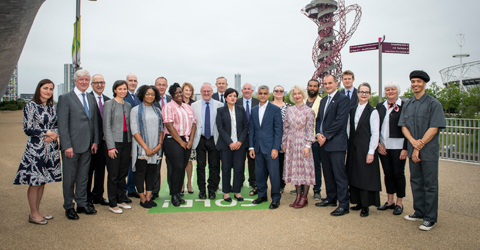 Newham schoolchildren helped Mayor of London Sadiq Khan bury a time capsule as part of a ground breaking ceremony on Queen Elizabeth Olympic Park to mark work starting on East Bank.
East Bank is the largest cultural and educational project for a generation, comprising three different sites and will be home to world renowned institutions such as the V & A Museum, Sadler's Wells, the BBC, The Smithsonian, London College of Fashion and University College London (UCL).

Mayor of Newham Rokhsana Fiaz joined Mayor Khan to help the schoolchildren bury the capsule. Earlier this year, schools from across East London were invited to submit suggestions for objects which best represented life in 2019 to be included in the capsule. Of the six winning schools, four of them were from Newham – Gallion's Primary School, Dersingham Primary School, North Beckton Primary School and Curwen Primary School. Items chosen included a London Underground map, a reusable water bottle, an EU flag and an Evening Standard newspaper.

As the time capsule was buried, young east London musicians specially commissioned by the BBC played a fanfare.

Mayor Fiaz said: "This was a historic moment and I am very proud this incredible new cultural quarter will be located in Newham. I would like to thank all the schools who took part and the pupils who put forward some very interesting ideas.

"East Bank presents so many opportunities for our young people. Proximity to such awe inspiring establishments will help fuel their creativity and I look forward to working together with all our partners to further unlock the diverse eclectic young talent we already have here in the borough."

Mayor of London Sadiq Khan said: "Culture and creativity has shaped our city and made us who we are – the capital is overflowing with talent and imagination and it is what makes London the greatest city in the world. That is why I am delighted to be in the Olympic Park breaking ground for the most ambitious cultural development in decades. East Bank will inspire a whole new generation of Londoners to pursue their creative ambitions. This new creative cluster will bring together world-leading cultural and educational institutions to give young Londoners the chance to explore career opportunities, create jobs for local people and provide an economic boost for the capital."

The scheme will be at the heart of a growing east London cluster of commerce, technology, manufacture, retail, education, culture and the creative industries. It will provide skills and jobs for local people, attracting visitors from around the world, bringing more than 10,000 students to the site, delivering 2,500 jobs and £1.5 billion boost to the economy. The project will be the most significant single investment in London's culture since the legacy of the 1851 Great Exhibition.

The construction programme will see more than 1,500 people working on site, at least 30 per cent of whom will be local residents and more than 125 apprentices will be working on the site every year.

The £1.1bn scheme will receive £385m funding from the Mayor of London and £151m funding from the Government. Work will be completed in phases with Sadler's Wells, UCL and UAL's London College of Fashion opening their buildings first in 2022 and then BBC and the V&A (including its partnership with the Smithsonian Institution) in 2023, along with UCL's second building on their UCL East campus.