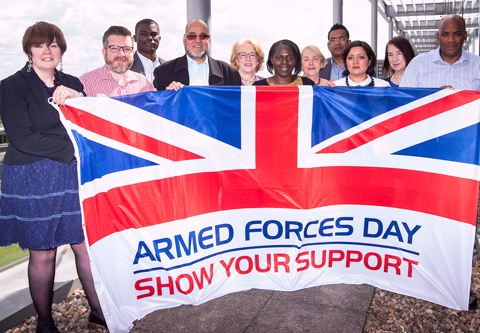 Newham Council will be hoisting flags at its Town Halls in East Ham and Stratford on Saturday (29 June) to show support and appreciation for all current members and veterans of the armed forces.​
Armed Forces Day raises public awareness of the contribution made by those who serve and have served in Her Majesty's Armed Forces community, including Regulars, Reservists, veterans, cadets, and their families and friends.
Recognising this important day is just one of the ways Newham Council supports members of the armed forces. A covenant was signed by the council in 2012 which offers support to members of the forces based in the borough. Newham was also the first local authority in the country to prioritise members of the armed forces for social housing. ​
Mayor Rokhsana Fiaz, Councillor Terence Paul, Cabinet member for finance and corporate services and who is Newham's armed forces champion, and members of Newham's Cabinet, are supporting the day.
Councillor Paul said: "We fly the flag to salute our armed forces who protect us, defend this country's interests and answer the call to deal with humanitarian disasters across the globe.
"They face risk every day and some fall in the line of duty. We value everything they do for us because they sacrifice much to keep us safe. We are proud of those servicemen and women who call Newham home, who are currently serving or have previously served. We owe them gratitude and respect and our support. Our decision to fly the Armed Forces Day flag must not be seen as support for war or conflict or government policy. It is about people and their families and how we can look after them during and after their dedicated service."
In November the Council also shows its respect on Armistice Day and Remembrance Sunday with services to remember those from generations past as well as those who continue to fall in conflicts and wars.