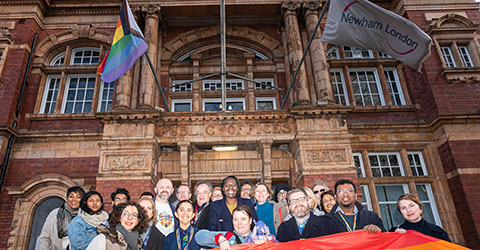 Newham Council celebrated the start of another exciting, inspiring and informative LGBT+ History Month on Saturday 1 February with the raising of the Progress Rainbow Flag for the second year running at Newham Town Hall.
With the flag already flying a day earlier at Stratford Old Town Hall, LGBT+ History Month is set to deliver a rich and diverse programme of events in the borough throughout February.
The event at Newham Town Hall was attended by a number of Newham councillors and hosted by Deputy Mayor of Newham and Cabinet member for community neighbourhoods, Councillor Charlene McLean, who talked about how Newham celebrates and embraces differences and how everyone should be treated equally, whatever their race, religion or sexual orientation.
Councillor Charlene McLean said: "LGBT+ History Month is a timely reminder that although much has been achieved in terms of tackling homophobia and transphobia in the past few decades, there is still so much more left to do to ensure that members of the LGBT+ community feel their contributions to society are valued, accepted and celebrated."
Events will include film screenings, poetry workshops, talks and a celebratory finale event. This year's theme is Poetry, Prose and Plays and is dedicated to journalist Lyra McKee, who was shot and killed during riots in Derry last year.
Other attendees at the event included The New Black Film Collective, Queer Newham, Forest Gayte Pride and Newham Youth Empowerment service.
The "Newham loves Equality Exhibition" will feature in some of Newham's libraries over the month. The exhibition is a celebration of the LGBT+ community past and present.
Manor Park Library will run a creative poetry session on 7 February, where visitors can find out more about the historical achievements and challenges of the LGBT+ community and use these as inspiration for creating poems, drawings or short stories. Everyone's creations will be attached to a map of Newham and displayed throughout LGBT+ History Month.
For children, Canning Town Library will be holding a Drag Queen Story Time session, which will be imaginative stories read by drag queens for under 5s and their parents and carers, also on 7 February.
Queer Lates X Queerstory on 20 February at the Theatre Royal Stratford East promises to deliver a glitter filled evening of celebrated cabaret and burlesque artists of today, paying homage to Queer icons including Josephine Baker, Marlene Dietrich, Noel Coward to name just a few.
A panel discussion will also take place about LGBT+ Refugees and Migrants on 21 February at the Old Town Hall in Stratford.
For quiz lovers, the big LGBT History Quiz will be taking place on 28 February at the Leytonstone Tavern.
​