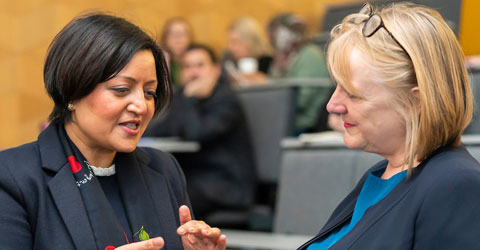 Top experts and more than 600 practitioners came together to celebrate children's learning in the early years at a two-day conference. ​
​The Mayor of Newham Rokhsana Fiaz attended and opened this year's conference, along with Joanne McCartney, the Deputy Mayor of London for Education and Childcare.
The annual event organised by Newham Nursery Schools is now in its fifth year and has grown hugely, with 35 per cent of attendees from outside Newham this year with representatives from all early years' providers including private and voluntary child minders and maintained nurseries. Both days delivered a busy programme of engaging speakers and workshops.
The theme was 'What are the building blocks of a high quality Early Years curriculum?' and a host of different expert speakers were on hand to respond. Speakers included Jan Dubiel, a nationally and internationally recognised specialist in Early Childhood Education. In 2018, The Times Educational Supplement identified Jan as one of the ten most influential people in British education.
Also present was Matt Van Poortvliet from the Education Endowment Foundation. He spoke about developing evidence-based practice and bringing research to early years settings and schools. Wendy Ratcliff from Her Majesty's Inspectors (HMI) spoke about how Ofsted inspect the early years curriculum and Lindsey Foster, Deputy Head and Tania Choudhury – Special Education Needs Co-ordinator and Inclusion team leader from Sheringham Nursery School, spoke about developing children's thinking at the school.
Councillor Julianne Marriot, Lead Member for Education said: "It's fantastic to see so many frontline professionals at this conference and hear more about their knowledge and skills. Our Early Years service supports children to thrive and is vital for children's development. It is the foundation of making Newham the best place for children to grow up."
The conference showed the high and improving standards across all types of early years providers in the borough, as evidenced by recent Ofsted outcomes. It was held at the University of East London, University Square Campus in Stratford on Thursday 9 January and Friday 10 January 2020.
Rohan Allen, Head teacher at Rebecca Cheetham Nursery Education Centre, helped organise the conference. He said: "I'm delighted with the positive turnout this year, which shows that the level of interest in early years education is unprecedented; having so many delegates attend our home grown conference from outside of Newham, truly cements the idea that we are leading the way in excellent quality Early Years education. It's inspiring to see Newham organisations and others coming together to share their experience and skills."
​