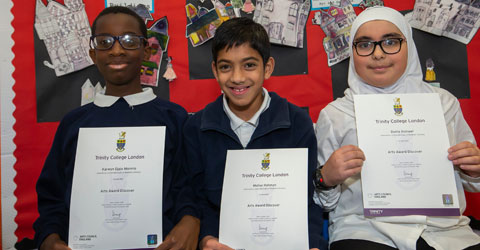 ​Newham Council has been shortlisted for Best Arts Initiative at the National Campaign for the Arts' (NCA) Hearts for the Arts Awards 2019.​
The initiative, called Building Futures, aimed to make children aware of a wide range of highly skilled and exciting jobs that exist in the construction sector, including architecture. The project involved 172 children from Curwen and Windsor primary schools and all pupils achieved an Arts Council Arts Award.

The shortlist was judged by representatives from some of this year's partners in the awards: Culture Counts, Local Government Association, National Campaign for the Arts, UK Theatre and Voluntary Arts Wales.

Building Futures was described by partners of the NCA as a "lovely project connecting young people with the changing local landscape, whilst giving access to creative learning and promoting future careers."

The project took place during the London Festival of Architecture in June 2018. Children visited the Museum of London Docklands before taking part in a design workshop led by an architect. The children then designed their own town, using recycled materials to build integrated models of schools, hospitals, community facilities and more.

Children were provided with an opportunity to learn and develop new design skills outside of the classroom. It also allowed the children to better understand the changes taking place around them in their neighbourhoods.

Building Futures was delivered in partnership with the local charity 15BillionEBP, alongside a range of organisations that contributed to the project, including Lendlease IQL and staff working on building developments within the borough. The project is sponsored by Lloyds Banking Group as part of their partnership with the Council to promote careers in the construction sector.

The Mayor of Newham, Rokhsana Fiaz, said: "I am extremely proud of the work that we do as a Council and delighted that this project has been recognised by the NCA's Hearts for the Arts Awards.

"I am particularly enthused that so many children were able to benefit from this programme and get a better understanding of the changes happening in their areas.

"With extensive investment and the development taking place in Newham, our borough is becoming a new focus for London with a young, energetic and increasingly skilled workforce.

"Through my commitment to community wealth building, I will ensure that residents are at the heart of everything we do and will benefit directly from local developments, ensuring opportunities stay local and strengthen our communities.

"By working directly with local developments and architects, Building Futures has helped raise aspirations about the highly skilled jobs our young people can achieve, giving them a sense of ownership about the change taking place in their neighbourhoods."

The winners of the Hearts For The Arts Awards 2019 will be announced on Thursday 14 February and will be selected from the shortlist by a panel of key arts industry experts and practitioners. Newham Council has been nominated for the award alongside Breckland Council, Torbay Council and Wakefield Council.