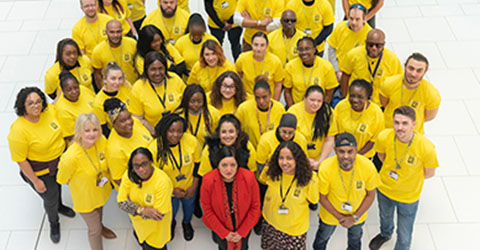 Newham council is bucking the national trend by employing 40 new youth workers as part of a significant investment into youth services.
​The proposed budget settlement for the service will increase spending by £4.5 million a year for the next three years, enabling the council to deliver its pledges to keep the young people of the borough safe and lead fulfilling lives.
The budget commitment together with the work of the Newham's Youth Safety Board, has led to the borough recruiting, and putting in place a 40 strong team of youth workers, who will work to transform the lives of the borough's youngsters and enable the number of youth hubs to double from four to eight.
The team, including several detached youth workers who undertake our outreach work, represent the largest expansion of youth workers anywhere in the country and are a key part of our Brighter Futures agenda embracing the council as we transform the borough to become the best place for a child and young person to grow up.
Nationally the YMCA estimates youth services have been cut by 69 per cent in a decade and are set to reach the lowest point in a generation this year. Campaigners say the average spend on youth services per local authority plummeted from £7.79m in 2010 to a planned expenditure of just £2.45m next year.
The Mayor of Newham, Rokhsana Fiaz said: "We have backed our words and commitments with money, I am proud to introduce the 40 new youth workers who have been recruited, following an interview process where young people themselves were given a say in hiring staff.
"At a time when austerity is forcing many local authorities to cut youth funding, Newham is bucking the trend. This new money was not easy to come by, but we have no choice, these young people are our future and must be our priority.
"With the help of young people, residents, family members and our partners on the Youth Safety Board, we've come up with an ambitious and positive agenda which I am committed to implementing."
"Our proposal to spend £4.5 million a year to support children and young people in Newham up until 2023 will mean we can deliver on my pledge to double the number of Youth Zones in the borough from four to eight, and provide extra support for young people's health and mental well-being, and programmes to keep our teenagers safe.
"The newly elected Conservative government has presided over an era of crushing austerity where local government funding and youth services have been decimated. Now more than ever we have to say 'enough is enough', our youth are in peril and we must act now to protect and invest in them and their future, for all our sakes."
In addition to creating a new youth team Newham has also recruited the country's first Commissioner for Children and Young People's services, Geeta Subramaniam-Mooney. Geeta will lead the council's approach to youth safety and harness the efforts of the council and its partners to safeguard Children and young people
She said; "We all need to take responsibility for changing the current situation - our children and young people deserve the best throughout their childhoods and into adulthood.
"With the recruitment of this new team, and our plans to double the number of youth hubs in the borough we are meeting the urgent imperative to take action to ensure our children get the best opportunities, experiences and the ability to enjoy childhood in a borough where they are valued and recognised for their amazing contributions to society.
"As Newham's first Children and Young People's Commissioner I feel privileged to work with the Youth Safety Board and others to make the borough the best place for children and young people in the country."