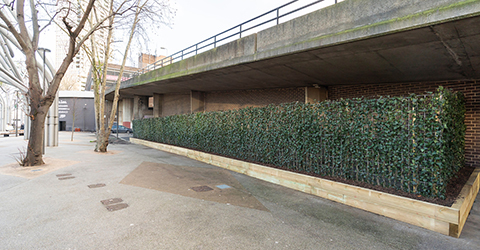 As the country battens down the hatches to prepare for a second big storm in a week, Newham's outreach teams have been visiting known rough sleepers living in precarious structures to offer alternative accommodation and advice.
Neither Storm Ciara or Storm Dennis have triggered the Pan-London Severe Weather Emergency Protocol (SWEP), however, in Newham the council is undertaking its own health and safety risk assessments of known rough sleepers, who were thought to be at potential risk from the adverse conditions.

Councillor John Gray, cabinet member for housing, said; "Sleeping rough is highly dangerous at the best of times, but with these storms bringing high winds and torrential rainfall, it becomes even more perilous. We are working hard to persuade all of those at risk to come in from the cold, and engage with our services, so that no-one unnecessarily comes to harm."
Newham Council has made great strides in recent months to help the street homeless population in Stratford to find pathways into more suitable accommodation with at least 50 people sign posted off the streets towards a better life.

Since mid-August, Newham's street homeless outreach team has been focussing on the Stratford area, with daily visits to all rough sleepers to encourage them to engage with the outreach workers. The team have made offers of various services including emergency and alternative accommodation, health assessments, securing lost identification documents/paperwork, welfare checks, and help with problems around drug and alcohol addiction, mental health and access to benefits/pre and settled status applications.

To date 50 members of the rough sleeping community have taken up assistance offers, which has resulted in a dramatic reduction in the number of people sleeping rough, and the number of tents, temporary structures and encampments in the area.

Since mid August 46 tents and encampments have been removed from Stratford with the co-operation of their occupants. The areas in Great Eastern Road, Jupp Street and an area outside Starbucks and McDonalds are currently clear, with former rough sleepers receiving the help, support and the care they need to escape a damaging life on the streets.

Council cleansing teams have supported this effort with regular visits to clean and clear areas where required.

Residents may still see people using these areas as a gathering point, but through our continued work and offers of support, the outreach team have identified the vast majority of this visible group are people who have access to housing, but continually decline to engage with services.

Street drinking and drug taking are prohibited across the borough and to encourage this particular community from mis-using Stratford's open spaces and take up the offer of support, the council has invested in a pilot "greening" project to introduce flowerbeds and living fencing in such anti-social behaviour (ASB) hotspots.

At every stage of this process, support is available from the outreach team to access services to help to plan a route away from the streets.

Living in tents on the streets is both dangerous and unhealthy for those sleeping rough, but it also causes distress and concern for residents, businesses and visitors to the area.

The council has pledged to deal with rough sleeping as a key priority and through its rough sleeping task force. Newham is working across all council services and with partners in health, local charities, businesses, the Greater London Authority (GLA), national government, and people with experience of street homelessness, to find caring and compassionate solutions.

In January the council, commissioned Thamesreach, who are already providing outreach in the borough, to open an assessment hub in Forest Gate, known as Stepping Stones. People are now being directed to this 25 bed unit to get the help they desperately need. Local charities such as Lola's Homeless, Seva Street, Abandoned Life Housing, and the Carpenters and Docklands centre have also been supporting guests at Stepping Stones.

The council also commissions a 20 bed unit at Caritas House in Canning Town, to offer those requiring support and help, a way forward.

Cllr John Gray, cabinet member for housing said; "Newham will continue to search for effective ways to solve the homelessness crisis. As a council, we intend to spend £1.4 million a year for the next three years to end this misery, but ultimately we rely on government investment to build more genuinely affordable housing, reverse cuts to housing benefit payments, to support mental health and addiction services.

"I am proud of the work our council teams and partners have done so far but we started from a very low level of support provision, so we have a long way to go.

"This government has made a pledge to end rough sleeping by the end of this Parliament. I now call on them to make good on its promise by supporting affordable housing, health and local government services, so we can end the disgrace of people in our community reduced to sleeping rough on the streets of one of the wealthiest cities in the world."
If you are concerned about someone who is rough sleeping and medical attention is not immediately required, you can make a referral to StreetLink​ through their website or call 0300 500 0914 which is charged at the normal call rate.