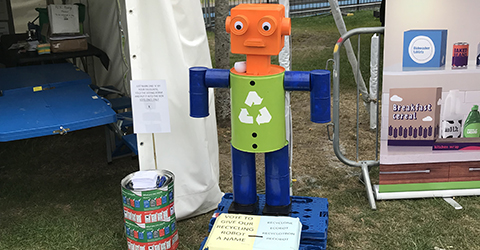 Newham Council has recruited a colourful new team member to join the battle to win hearts and minds in a new project to improve recycling in the borough.​
​Ecobot is a mascot based on designs originally suggested by schoolchildren and developed by the Council's waste and recycling service.
Young people created sculptures using plastic bottles, paper and cards, and then the recycling team developed their designs into a mascot made from recyclable metal cans. Residents were invited last summer to suggest names for the new mascot and Ecobot was born.
One of the ambitions of Newham Council's agenda to deal with the climate and health emergency is to encourage residents to waste less and recycle more.
Ecobot will tour the borough with the waste and recycling service and also appear on social media to demonstrate the changes residents can make to reduce their impact on the environment.
The Council is determined to tackle the climate emergency that is having a detrimental impact on the lives and health of residents. Encouraging people to reduce waste and recycle will make an important contribution towards achieving that goal.
As part of the Council's draft Budget for the next three years, there is a proposal to invest an extra £500,000 each year to improve weekly recycling collections.
Councillor James Asser, Cabinet member for environment, highways and sustainable transport, said: "We have been working hard with residents to improve the rate and the quality of recycling.
"Recycling more reduces the need for extracting, refining and processing raw materials that leads to substantial air and water pollution. It also saves energy, reduces greenhouse gas emissions, and so helps to tackle climate change.
"If Ecobot encourages our residents to recycle more and reduce waste, it will play a vital part in helping us, as a borough, to tackle the climate emergency that affects us all."
If you want to learn more about what you can and can't recycle you can visit www.newham.gov.uk/recycling​ for the Council's online Recycleopedia. It will also tell you when your recycling collection day is how to report missed collections.