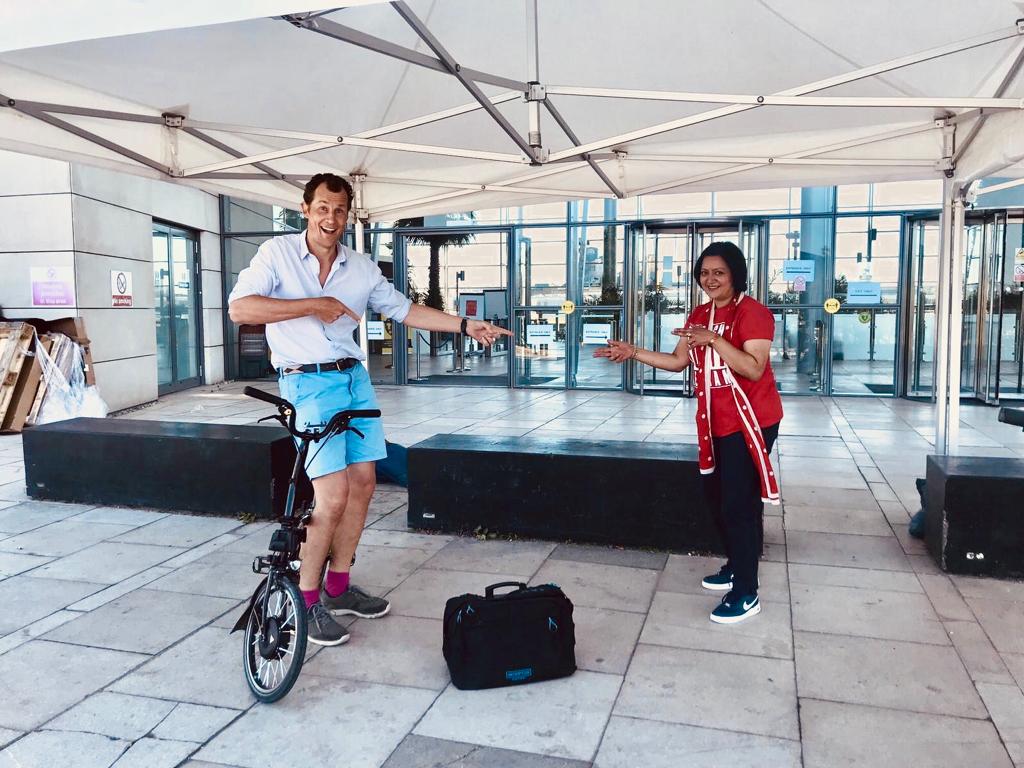 Mayor Rokhsana Fiaz has welcomed the arrival from today of a new bicycle hire scheme in Newham's Royal Docks designed to encourage a shift away from cars and make cycling more accessible to all.
Brompton Bike Hire – the sister company to the iconic folding bike brand – has introduced a Bike Hire dock located immediately adjacent to The Crystal building close to Royal Victoria Docklands Light Railway (DLR) station. A second docking station is set to be located near Royal Albert DLR station and Newham Council's Newham Dockside offices.
Each docking station will hold eight bikes. The two new locations add to an already established Brompton Bike Hire network of bike stations, which includes Stratford, Canary Wharf, and North Greenwich. Hire charges begin at £3.50. Compared to the lowest price of a Zone 3 travelcard at £8.20, the cost of a day's hire is significantly less than using public transport.
Mayor Rokhsana Fiaz, pictured with Brompton Cycle Chief Executive Officer Will Butler-Adams, said: "It's great to see another exciting development for the Royal Docks, with the iconic Brompton bicycle coming to Newham.
"This new bike hire offer is just the start for Brompton Bike Hire for residents, with more new hire docks set to be installed as part of a network across the whole borough to encourage cycling and promote sustainable transport. That is going be more important as the Government continues to ease Covid-19 lockdown restrictions, as there will be limits to how many people can travel on public transport due to social distancing requirements.
"Healthy active travel, like walking and cycling will become part of a new normal for all of us and I'm looking forward to Brompton bikes becoming part of our future as we work through our Covid-19 recovery."
Will Norman, London's Walking and Cycling Commissioner, said "Enabling more people to cycle is crucial to our city's recovery so I'm really pleased that two Brompton Bike docking stations are being installed in the Royal Docks. Social distancing has dramatically reduced the capacity of our public transport network to just 13-15 per cent of pre-Covid levels, so many more journeys will need to be made by bike. Hiring a Brompton is a great way to get to grips with cycling around Newham and beyond."
Julian Scriven, Managing Director of Brompton Bike Hire, said: "I am delighted to announce new hire locations in the Royal Docks. This has been a challenging time for the country, but we hope residents and visitors take advantage of this new hire scheme to try some cycling."
Brompton and the Royal Docks Team, a joint project set up by the Mayors of London and Newham to transform the docks area, will be supporting the community with regular cycling experience days to provide residents with the confidence to start riding, while also helping them improve and maintain a healthy and exercise rich lifestyle.
Visit Brompton Bike Hire's website for more information (external link).