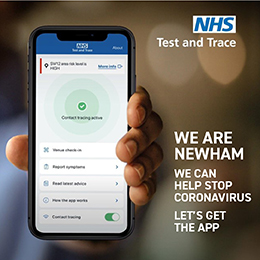 Newham residents will today begin receiving letters encouraging them to download a new COVID-19 Test and Trace mobile phone app which aims to tackle the pandemic and protect residents, prior to its national roll out.
The app will be available in multiple languages, starting with English, Urdu, Punjabi, Bangla and Gujarati, with more languages added within weeks so that residents in Newham can benefit with the latest cutting edge technology, before it is rolled out to the rest of the nation.
Mayor of Newham, Rokhsana Fiaz said; "We know that Newham has seen some of the most significant impacts of Covid-19 due to the health inequalities and vulnerabilities in our communities.
"With the threat of Covid-19 still with us, it's vital we support our residents to keep safe and help others. The app is a welcomed addition to all the measures that our public health team have put in place working closely with our local health partners.
"With its easy to use features, the app will be available in different languages and comes with the assurance that personal data stays with the user so that people's privacy is protected.
"By taking part in this early phase to trial of the app before its national roll-out, we'll be working closely with all sections of our diverse community through our Covid-19 Health Champions network and neighbourhood outreach teams to encourage conversations with residents to increase its take-up and improve its effectiveness to keep Newham safe from Covid-19.
"We believe there are no hard to reach communities, just communities whose voices haven't been heard through generic messages. Public Health England, by collaborating with Newham on this pilot, has recognised our innovation in creating a unique array of resources to support our community through this unprecedented time of challenge in the country, and sign-post best practise for the rest of the nation."
"I really would urge all residents to take part in this pilot, download the app, and help friends, family and colleagues, who may struggle with mobile technology, to sign up too. We want this app to be a game changer in terms of helping to keep the community safe and allowing us to start to get back to the things we love doing."
From today every Newham resident will be sent an email or letter with a unique code to allow them to easily install the app on their SMART phone.
The App features include:
Infection spike alerts based on postcode – to warn if there is a rise in local infection rates
A digital (QR) check-in – which can be used at venues like restaurants, shops, pubs to register you have visited
A symptom checker
A link to allow easy to access make a test booking.
A timer feature for those told to self-isolate: if a user is told to self-isolate, the app will help countdown that period and access will be provided to relevant advice.
The app will work alongside enhanced local contact tracing and testing already offered within Newham and driven by the Council's public health team to help minimise the spread of Covid-19 in Newham.
The NHS Test and Trace app has been designed to work alongside traditional contact tracing services and testing to help people to understand if they are at risk of infection so they can take action to protect themselves and their communities.
The app is designed to the highest standards of data privacy and data security. It will not track individuals and does not hold personal information such as name, address or date of birth. For some features, the app may require more information from the user (e.g. if you are booking a test) but only if the user gives their explicit consent.
Simon Thompson, Managing Director of the NHS Test and Trace App, said; "We are excited to be able to give Newham residents the opportunity to be among the first in the country to take advantage of the new NHS Test and Trace app. The app is designed to give people maximum freedom and minimum risk and every download will help us to keep communities safe and doing the things they enjoy.
"User privacy is at the heart of the app and it will not track individuals or hold personal data. I hope residents will really get behind this trial and I know that with the help of Newham we can make this app even better ahead of a rollout to communities across the country."
Tim Wood, assistant church warden at St Martin of Tours Plaistow and COVID-19 champion since June said; "the great thing about being a Covid champion is supporting our communities and being able to get factual information that isn't gossip out to all of my networks.
"We have a very multicultural diverse congregation of people from nearly every country in Africa and Eastern Europe. It really is a cross section of the population of Newham.
"The app is a brilliant way of controlling the virus and keeping people safe; it allows us to get alerts when we might be at high risk and allows us to check in at venues and be notified if something happens and know what to do, including getting tested if appropriate or isolating.
"I've already done demonstrations about the app in our church, allaying people's fears and misinformation and showing that the app is perfectly safe, the app is tracking the virus not the people. There's a great role as champions that we can play in showing people how it works and responding to their fears."
Iqbal Hussain, 41 a life-long Newham resident and a health champion since June. "I'm part of the neighbourhood watch in my area and liaise with our local neighbourhood, I am also a trustee of a mosque in Manor Park and a school governor at Avenue Primary School. So I thought that by becoming a champion I can share information very easily with all of my communities.
"Not everyone has the technology to receive information so when I am out and about I talk to people about the information I have received. The app looks very simple and much better than the old one. I think it will be very useful particularly for young people who are out and about. I think it's great that Newham is piloting it. It's important that any new part of our response to COVID-19 takes account of everyone – and Newham is a great place to hear from the full diversity of our community."