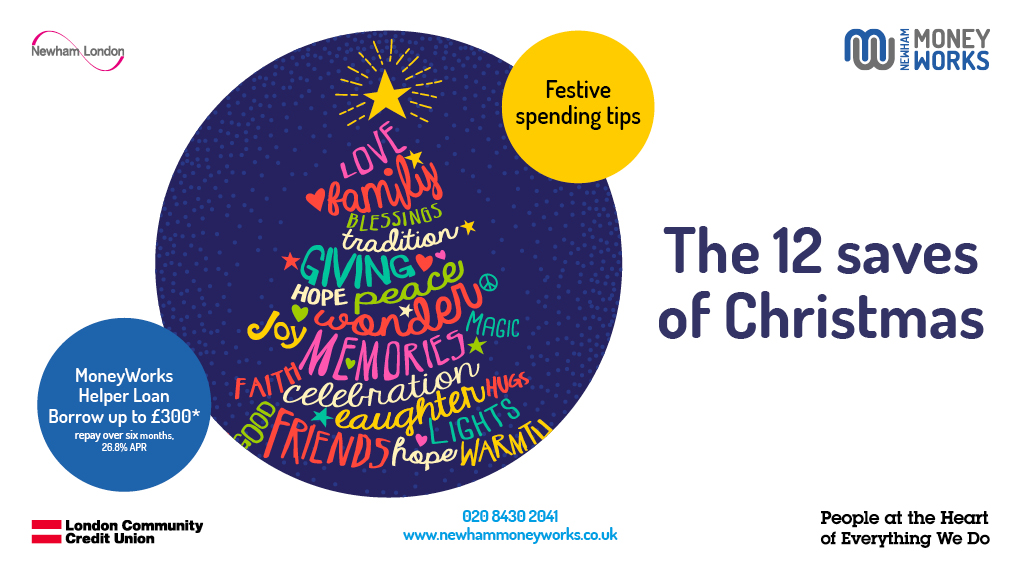 Twelve SAVES of Christmas: top tips for coping with financial pressures this season.
With the festive season fast approaching, many residents may feel anxious about making ends meet at such an expensive time of year.
Newham MoneyWorks offers help with everything from budgeting for the big day and present buying, to suggestions and small short term loans for if you need to borrow money.
And their "12 Saves of Christmas" offers practical tips for smart seasonal spending.
Cllr Gen Kitchen, Deputy Cabinet Member for Community Wealth Building, said: "Christmas may feel very different this year, but with a little help from Newham MoneyWorks, we hope more residents will feel able to create a festive atmosphere and a magical Christmas.
"After such a difficult time in 2020, my personal debt has increased so I understand the pressure families feel. At MoneyWorks, we want all of Newham's families to enjoy a special Christmas without the financial pressure."
The 12 Saves of Christmas:
1. Work out a Christmas budget – and stick to it
Budgeting well is one of the best ways of coping with Christmas costs.
2. Cut the cost of a supermarket shop
Make a shopping list and stick to it. Shop online to monitor your basket cost, and visit www.mysupermarket.co.uk to compare prices across shops. In store, scan-as-you-shop devices track your spend as you go.
3. Secret Santa
Set up a Secret Santa with friends and family, with a pre-agreed budget so that you each only have to buy a gift for one person, instead of several.
4. Compare prices
If you know what you want to buy, shop around to get the best price.
5. Earn cash back
Register your online shopping with cashback organisations such as Quidco and Kidstart. The money you earn can offset future costs.
6. Plan food shopping
But non-perishable food early to spread Christmas food costs across several weeks.
7. Try homemade
Homemade decorations can look great at a fraction of the cost – and are great for keeping kids entertained.
8. Voucher hunt
Search the web for discount codes before paying full price
9. Small swaps = big savings
Making small changes, such as choosing supermarket own brands, can make a big difference.
10. Book in advance
If you're hoping to travel by train or coach this Christmas, save on fares by booking in advance.
11. Sale item stockings
Shop early for discounted items that would make nice stocking fillers.
12. Enjoy Christmas!
Remember, the best Christmas gift is spending time with loved ones – not splashing out on expensive presents.
If you need financial advice or support, don't suffer in silence. MoneyWorks advisors can offer a raft of confidential support – from Christmas Saver accounts to help you put money aside all year round, to affordable short-term £300 Helper Loans that can help you avoid high-costs payday lenders and spread the cost of borrowing over six months.
For more information, visit www.newhammoneyworks.co.uk or call 020 8430 2041 from 9am-5pm Monday to Friday. Find MoneyWorks on Twitter @LBNMoneyWorks