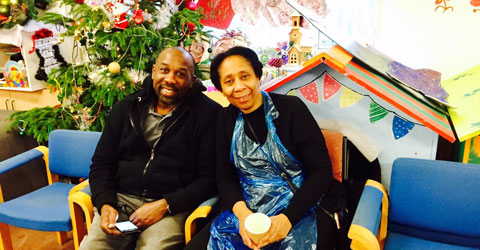 Newham Council has agreed to support a project run by Stratford Seventh Day Adventist Church, and the Docklands Settlements, which offers shelter, food and companionship to the borough's rough sleeping community over the festive period.
The Church, hosted by Dockland Settlements, is once again using The Carpenters and Docklands Centre, Gibbins Road in Stratford E15 as its base, which will open at 2pm on Christmas Eve and will stay open 24 hours a day until 2pm on 2 January 2020.

Last year 75 guests a night were provided with a warm bed, while a total of 130 guests a day accessed the centre and enjoyed hot meals, companionship, health checks, clothes donations and more. Like last year the shelter will be supported throughout by Newham Council's outreach team who will be on hand to offer person centred support, assess needs and engage guests with vital services like health, housing, benefits, and help to retrieve lost documents etc. The council will also contribute towards the running costs for the shelter.

With Christmas approaching the shelter organisers, Stratford Seventh Day Adventist Church, are looking for volunteers to help out at the Christmas shelter.

Newham Street Population Manager Ajitha Sajeev said: "People who volunteered last year said they got so much out of the experience and how much they enjoyed being able to give something back. It is really important, especially at times like the festive period to let some of our most vulnerable residents know that they are not alone and there is real care and compassion at work in this borough".

"I would definitely encourage anyone who is able to offer even a small amount of time to sign up for a volunteer shift, and I promise you will get more out of it than you can possibly imagine."

There are lots of volunteering roles to fill, ranging from helping to cook and prepare meals, distributing clothes and shoes, sharing your skills as a health or social care professional, to just having a chat and helping out as necessary.

This is a particularly busy part of the year, so please sign up to donate some of your valuable time and help to spread the festive cheer this holiday season.
​You can sign up to volunteer​

If you are unable to volunteer, the shelter is also accepting donations of the following goods to support rough sleepers in Newham:
Clean clothes
New toiletries (shower gel, razors, shaving gel, shampoo, toothpaste, soap etc)
Bath Towels
First Aid Kits
Tinned food only
New underwear
Woolly hats and scarves
Coats
Donations can be dropped off at: The Carpenters and Docklands Centre
98 Gibbins Rd, London E15 2HU from 10 December between 10am and 5pm, Monday to Friday.

For more information contact Eutella Simon [email protected]​ from the Seventh Day Adventist Church or Newham Council's Street Population Manager [email protected] or telephone: 07900 341784.