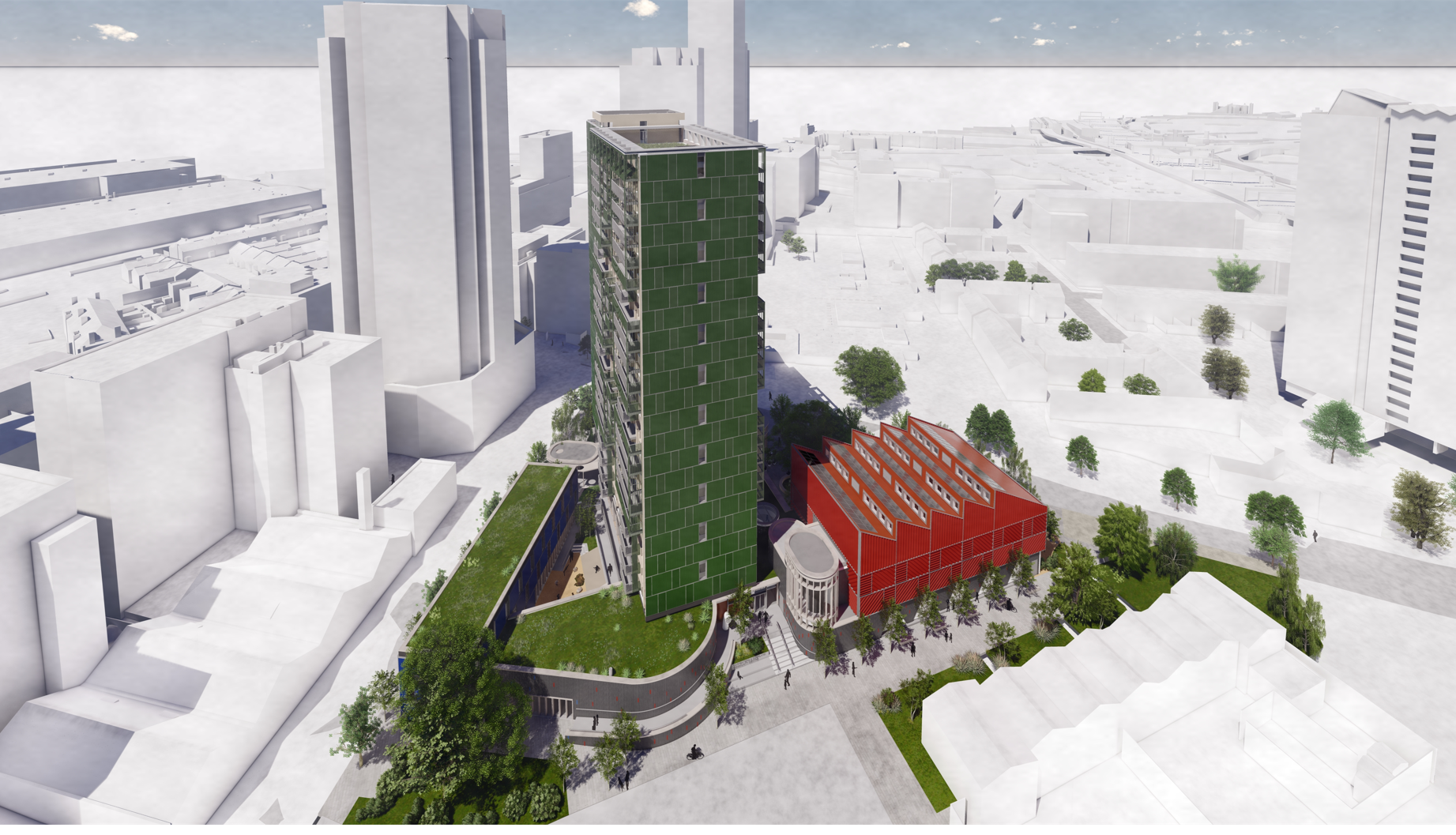 Newham Council getting stuff done on Carpenters Estate after James Riley Point proposal approved by LLDC Planning Committee.
136 refurbished modern homes, with 94 percent at social rent and London Affordable Rent, alongside a new state-of-art community and sports centre at James Riley Point approved by London Legacy Development Corporation (LLDC) Planning Committee;
Existing high-rise building will be extended and fully refurbished to modern sustainability standards, with right of return for existing residents on the Estate;
Another major milestone in first phase of ambitious Carpenters Estate restoration and regeneration programme, delivering 2,172 homes local people can afford, with at least 50 percent at social rent.
The LLDC Planning Committee last night (24 May), approved Newham Council's proposals to restore James Riley Point a high-rise building on the Carpenters Estate in Stratford, which will deliver 132 much needed social rent homes, as part of Mayor Fiaz's ambitious housing agenda to deliver homes that Newham residents can afford.

Alongside a state-of-the-art community and sports centre, James Riley Point signals the start of London's most significant estate regeneration programmes on the Carpenters Estate reflecting Mayor Fiaz's 'getting stuff done' as she embarks on her second term, following her re-election on the 5th May.

The successful approval of James Riley Point by the LLDC Planning Committee means that the Council's wholly-owned housing delivery company, Populo Living, can action the start of works on the long-neglected high-rise in the coming months.

Works on the 23 storey James Riley Point high-rise will see the existing 1960s building stripped back to its concrete frame and transformed to a modern sustainable structure with increased space, larger balconies and four additional flats.

A brand new community centre is also part of the restoration plans, providing a new home for the pioneering Carpenters and Docklands Centre which will include a new sports hall, a 5-aside football pitch and facilities for an after school club and café for young people living on the estate as well as local residents.

Between 19 November and 14 December 2021 residents were asked to vote on the Council's Landlord Offer, which included the co-designed Masterplan, via the resident's ballot either online, by post, over the telephone or by text. The ballot was organised and run by Civica Election Services (CES) in line with the requirements of the Greater London Authority and Mayor of London. The Landlord Offer document is available to read. Voter turnout was 66.5 percent, with an overwhelming majority, 73 percent, voting 'Yes' in the ballot and giving the green light to the people powered restoration and regeneration plans.

Mayor Rokhsana Fiaz said: "Since my re-election I have tasked the Council and Populo Living to get stuff done, and they'll be hitting the ground running with the restoration plans for James Riley Point, because residents on the Carpenters Estate have waited far too long. Homes that our people can afford is one of the crucial missions as the re-elected the Mayor of Newham and another 1,500 new Council homes is my promise to the people of Newham in the coming four years.

Planning approval for James Riley Point is great news for residents living on the Carpenters Estate and those with a right to return, because I promised them back in 2018 that I won't let them down. I'll now get cracking with the Council and Populo Living teams to drive the restoration programme so families in Newham can move in and we show the actions we are taking to build a fairer Newham, with a £1 billion investment to help change lives by providing high quality and new sustainable homes that local people can afford."

Lizzie Le Mare, Director of Tibbalds Planning and Urban Design, which is leading the Carpenters Estate project team and acting as planning consultant, said: "These proposals are a step change for the area and will kickstart the regeneration of the Carpenters Estate that the community has been waiting years to see. The planning application is the result of years of careful thought and consultation with residents, and the decision to repurpose an existing building means some local history and identity can be retained while still providing high quality homes to modern standards with significant environmental benefits."

Proctor & Matthews developed the architecture narrative of the design which aims to respect the Modernist heritage of the existing tower while bringing in new elements that activate the surrounding streetscape, embedding the tower into its context. The brand-new community building it designed is made up of a series of pavilions that wrap around the base creating an active and engaging extension to the landscape.

The residential refurbishment of the tower, by ECD Architects, will bring the homes up to Passivhaus standards as well as provide new internal fittings and reconfigure internal rooms, sizes, and amenity spaces to meet National Housing Standards and London Plan policy. A series of new clustered balconies will give a sense of enclosure, as well as solar protection. The building will be clad in glazed coloured ceramics, referencing the area's heritage of porcelain manufacturing, while bringing a sense of vibrancy and character.

By revitalising the ground floor with new community facilities and refurbishing the existing tower, the project sets a standard for how other 20th century tower typologies could be developed in the future.

Andrew Matthews, Director at Proctor & Matthews Architects, said: "James Riley Point is the flagship first phase of the wider Carpenters masterplan – the unanimous support given by Newham's planning committee is fantastic news for the Carpenters community. Newham and Populo's determination to deliver not just new homes but also 'state of the art' community and sports facilities in this first phase demonstrates their commitment to the existing community and the restoration of Carpenters as an integrated and sustainable 21st Century neighbourhood. Newham's brief allowed the innovative refurbishment of this 1960's tower combined with new community facilities that allowed us (in consultation with residents) to completely rethink this historic structure's place in the wider plan. The retention of such a large structure helps meet the council's commitment to 'carbon reduction' while delivering homes that meet modern standards. It will be a benchmark for the re-use of such structures across the UK."

Gary Alston, Design & Technical Director at ECD Architects, commented: "We are delighted that James Riley Point has been granted planning permission that will see the retention of the existing structure providing significant savings in embodied carbon. The proposed scheme is designed to achieve the Passivhaus EnerPHit Standard offering further carbon savings throughout its operation, whilst providing high quality homes that are affordable to run. The reconfigured design provides homes that achieve modern space standards, improved accessibility throughout and external communal and private amenity spaces. This exciting low energy development provides James Riley Point with a new identity that is inspired by its modernist roots."
James Riley Point is Phase 1A of the Council's ambitious Carpenters Estate restoration and regeneration programme which will be delivered over a phased programme of works so that disruption to residents living on the estate are minimised and they only need to move once into their new home.
132 new affordable homes at James Riley Point will be a mix of social rent, London Affordable rent and Shared Ownership homes. To help protect and enhance the existing community, the homes will be offered to existing residents of the Carpenters Estate and those with a right to return. The four homeowners living in the James Riley Point will have the opportunity to be temporarily rehoused during refurbishment work and will be offered new homes in the development, in line with the Carpenters Landlord Offer.
The Carpenters Landlord Offer and Masterplan, the largest to be put to a ballot in London, includes proposals for over 2,000 homes, 50 percent of which will be social rent Council homes; with new community and sports facilities, improved green spaces (including a large central park area), business and employment opportunities. Of the existing homes on the estate, 44 percent will be refurbished as part of Newham Council's response to the Climate Emergency.
This includes 314 existing homes (44 percent) on the estate being restored to the highest green standards including the refurbishment of James Riley Point in 2022 with Lund Point and Biggerstaff Terrace refurbished in future years.
The Carpenters Estate, next to the Olympic Park and Stratford Station, has seen many redevelopment attempts over the last two decades. Following her election in May 2018, Mayor Rokhsana Fiaz stopped the Council's previous plans to enter into a joint venture with a private developer; and in February 2020, Mayor Fiaz and her Cabinet tasked Newham Council's wholly owned housing delivery company, Populo Living, to co-design a viable Masterplan with residents living on the Carpenters Estate.
More information and all consultation material is available on the community website.
The Carpenters Estate restoration and regeneration programme is being managed by Populo Living, Newham council's wholly owned housing company. Populo is central to Mayor Fiaz's Housing Delivery programme and are tasked with ensuring 50 percent of all the homes it builds are at social rent levels. Newham Council plans to invest up to £1.2bn in Populo Living's housing projects during the next 15 years. Populo Living is on course to deliver 7,400 homes by 2040, with 70 percent of new homes at social rent levels. Populo currently has 622 homes under construction and this year plans to start construction on 190 new social rent homes.