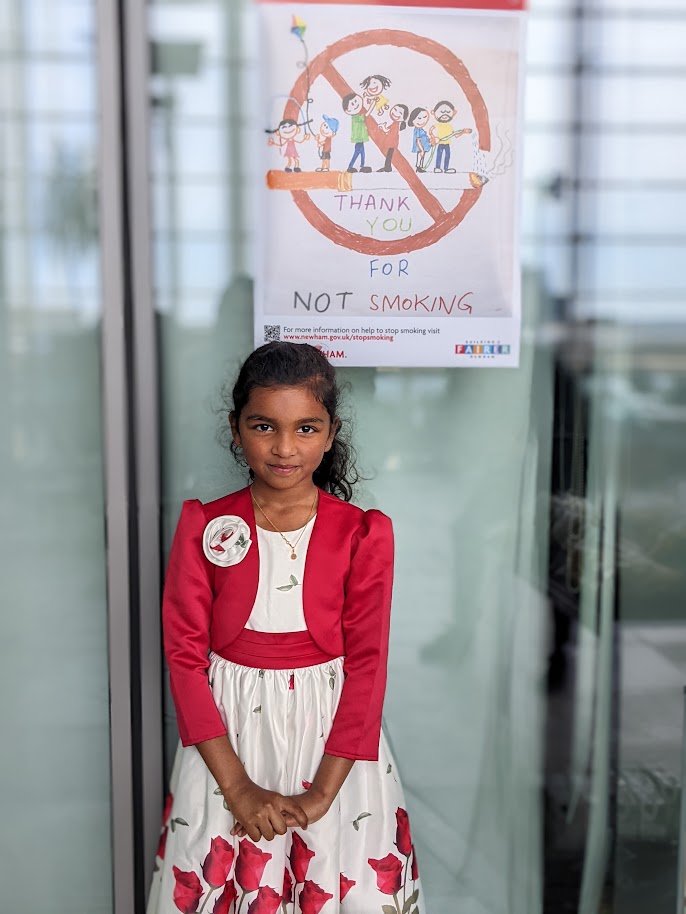 Three children from schools across Newham have won a poster competition to say 'Thank you for not smoking' to Newham residents.
As part of 'No Smoking Day' in March 2022 Newham Council launched a competition for schools across the borough to design posters with the theme 'Thank you for not smoking'. Entrants were asked to design posters that best illustrated why those that smoke should stop. Newham's Young Health Champions chose three winners and three runners up from each category – Key Stages 1, 2 and 3, including ages 5-14.
Cllr Neil Wilson, Cabinet Member for Health and Adult Social Care said "We hope that the artwork produced encourages those that do smoke to stop smoking, especially in communal areas such as parks which are in frequent use by our young people."
"Smoking remains the biggest cause of death in Newham and almost 40,000 residents in the borough smoke. I am thankful to the winners and all the other entrants for doing their part in helping us in our mission to become a smoke-free borough by 2030"
Newham's Stop Smoking Service lead, Shamsia Begum said "It has been a joy to see the young people of Newham take an interest in helping with smoking cessation in their borough. Queen Mary University London currently offer a free Stop Smoking Service to all Newham Residents that targets smokers at greatest risk of developing serious health problems."
Smoking is currently the biggest cause of death and illness in Newham, where 14% of the adult population in Newham smoke - higher than the London average (13%). The 'Thank you for not smoking' competition was run alongside our 'No Smoking Day' campaign, supporting the council's aim to have a smoke-free Newham by 2030. The campaigns form just part of the council's ongoing work to help Newham residents live healthier and more active lives.'
Winners and runners up were presented with certificates and prizes at Newham's Clean Air Day event on Thursday 16 June at the council's 1000 Dockside building. The winning artwork will also be on display on the day for the public to come and view, and will also be displayed around the borough this summer.
Information on Newham Council's 'stop smoking' services are available at www.newham.gov.uk/stopsmoking