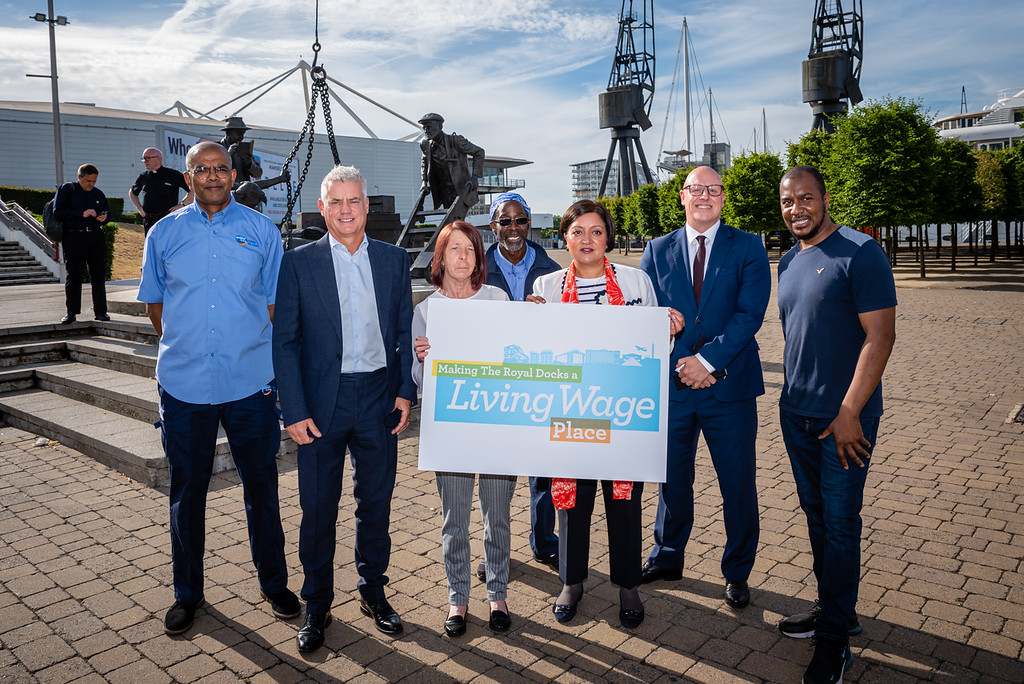 ExCeL London becomes Accredited Living Wage Employer
Today the Royal Docks receives formal recognition from the Living Wage Foundation for Making a Living Wage Place
Aim of increasing the number of Royal Docks accredited Living Wage Employers by 50% by 2025
Community-led Royal Docks Living Wage Action Group has also signed up London City Airport and Tate & Lyle Sugars as major local employers
Increasing the number of local employers paying a real Living Wage will help to tackle the cost of living crisis affecting many Londoners
The Royal Docks took another step towards becoming a Living Wage Place as the key employer Excel became an accredited Living Wage employer.
Over the next 3 years, a coalition of local public, private and third sector accredited employers aims to increase accredited Living Wage Employers in the Royal Docks by 50%, securing a pay rise for over 3,000 employees.
Newham Council was accredited as a London Living Wage employer in March 2021. It has since been appealing to other businesses to follow the lead of the council,to pay the London Living Wage and make the Royal Docks a bastion of community wealth building and inclusive growth
The long-term aim is establish a norm that would see a Real Living Wage as the absolute minimum paid by all businesses based in the Royal Docks.
Today Newham Mayor Rokhsana Fiaz join children from St Antony's Catholic Primary to launch the Royal Docks Action Plan at the iconic Dockers Statue next to Victoria Dock. This is followed by a breakfast event in ExCeL London that will see hundreds of local businesses attend. The plan, which has official status with The Living Wage Foundation, lays out a targeted pathway for the area to become a Living Wage Place.
The Living Wage Place Action Plan, sponsored by the Royal Docks Enterprise Zone, sees a focus on 5 business sectors with a strong presence in the Royal Docks economy: hotels; affordable workspace providers; property developers; aggregates operators; industrial estate employers and landlords. However, all businesses in the Royal Docks whatever their sector or size are encouraged to sign up.
Mayor of Newham, Rokhsana Fiaz OBE said "Our agenda is to build a Fairer Newham and that's why we are a London Living Wage Council. Our game plan for the next four years is to progress with Newham becoming a London Living Wage borough. This requires a sea change from employers and businesses operating in Newham so that they pay their staff a fair days wage for a fair days work. It's great that Excel London based in our historic Royal Docks has become the latest business in Newham committed to fair pay for their employees, many of whom are local residents. Our action plan is to make the Royal Docks the first London Living Wage neighbourhood in the capital because we want the future of our city as well as our borough to be based on fairness especially in the face of the cost of living crisis.
Mayor of London, Sadiq Khan said: "This is a major step forward in making London a Living Wage City. I'm proud that, since I became Mayor, the number of accredited London Living Wage employers has more than quadrupled, and I'm determined to keep up this momentum. Making the Royal Docks a 'Living Wage Place' is a big part of making this exciting area a beacon of inclusive and sustainable regeneration, and building a better and fairer London for all."
Angela Fields said "I live in Custom House in the heart of the Royal Docks. It is hard to overstate how important it is to my life, my wellbeing and my health being paid a true Living Wage. Without it I have no idea how I would survive the cost-of-living crisis." Angela is founder of the Custom House Workers' Co-operative which is a Living Wage accredited cleaning company and a member of Royal Docks Action Group.
David Miles, CFO of ExCeL London, said: "As London's largest events venue, we're immensely proud to be a part of the Royal Docks community and are committed to assisting with the area's wider regeneration plans. As such, we're delighted to announce we've become a fully accredited Living Wage employer which will make a key difference in terms of recruitment, retention and employee satisfaction here at ExCeL London."
Quote from Katherine Chapman, Director of Living Wage Foundation: ''The Living Wage campaign began in East London over twenty years ago in response to local workers and their families struggling to get by on low wages. Today, a cost-of-living crisis is once again forcing local workers and families into financial hardship. That's why it's so exciting to be able to announce today that, following 20 years of successful Living Wage campaigning by local and civic leaders, the Royal Docks are receiving formal recognition for Making a Living Wage Place.
There are currently 61 accredited Living Wage employers in Newham, all committed to paying their directly employed, and contracted staff, the Living Wage. This is a great achievement, and we hope to see many more employers in the area commit to pay a real Living Wage over the coming years to provide thousands more workers and families with security and stability during these challenging times.''