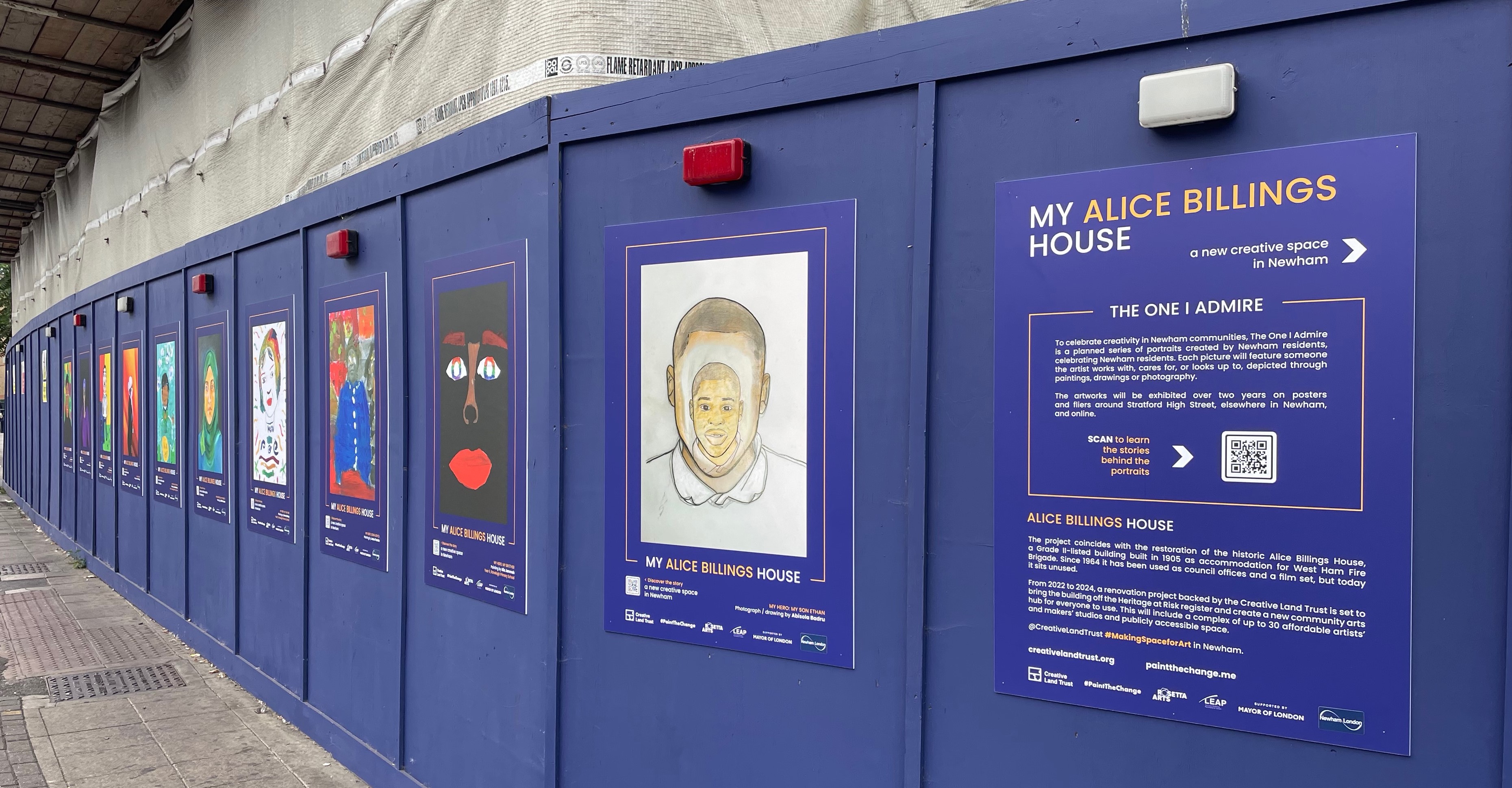 Transformation's funding driven by Council's successful Levelling Up bid, Creative Land Trust and Mayor of London's High Streets for All.
Newham Mayor Rokhsana Fiaz has heralded as a "step change for creativity and culture" the latest stage of the transformation of the historic Alice Billings House in Stratford. The former firemen's residence is currently being repurposed through significant investment to restore it as an important community asset to be available for local creatives and artists.

The latest phase of the transformation has been set out at an event in Stratford Town Hall, which included the unveiling of ten portraits of local residents, as part of and funded by the London High Streets for All Challenge and the Community Land Trust. Over the next two years forty more portraits will be exhibited in Stratford town centre.

The refurbishment of Alice Billings House is being funded by Newham Council's Active Spaces Programme and will be a central part of the Mayor's Stratford Vision, which will harness the benefits of forthcoming developments for the local community.

Welcoming the latest successful phase in the project, Mayor Fiaz said: "This latest stage in the exciting transformation of Alice Billings House is a great example of how we are getting things done to support local residents, including making use of our beautiful buildings to nurture creativity, and in the heart of our communities."

The Mayor added: "This kind of action is what our new cultural strategy launched back in March, Building Newham's Creative Future, is all about. This strategy signifies a real step change in how we both help drive investment, engagement and participation, and ensure our home grown creativity can thrive and flourish.

"This project is just one example of that step change. Nurturing Newham's creativity and culture is enriching for all, and vital for our health and wellbeing, to be felt by everyone.

"I have no doubt that Newham is to become a home for the very best cultural and creative organisations and Alice Billings House will play an important part in this."

The art commission has received a further boost with the GLA's High Streets for All Challenge's confirmation that the Community Land Trust will receive an additional grant of £170k to support more outreach activities. These will tie in with the refurbishment programme and a range of curated events.

Alice Billings House is set to become a creative driver for small and medium enterprises and businesses to operate and collaborate. It will also be a place to connect, relax and enjoy the exhibitions and café whilst promoting local artists and culture, and provide new opportunities for local residents.

The refurbishment won significant investment through the Council's successful Levelling Up Fund bid, which will be matched by funding from the Community Land Trust.