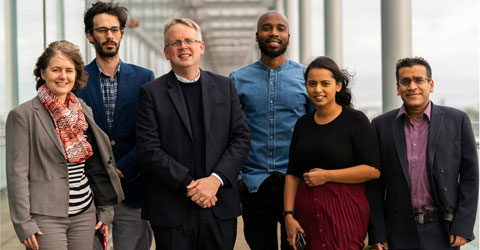 Newham Council wants residents to feel part of where they live, be able to participate more extensively in local democracy, have their voices heard in decision-making, help shape the borough's future including the way it is governed, and be able to hold their elected representatives to account.
An independent Democracy and Civic Participation Commission is now fully established and has begun work to consider how the Council can become a beacon of participatory democracy and ensure all voices can be part of the conversation, including those of young people.

All six members of the Commission have been appointed and are getting to work on gathering feedback from residents and experts on subjects such as how the Council can increase residents' participation in local democracy, facilitate greater civic engagement, and become more transparent and accountable.

Professor Nick Pearce is chairing the Commission. Nick is currently Director of The Institute for Policy Research (IPR) and Professor of Public Policy at the University of Bath and has previously been the Director of the Institute for Public Policy Research (IPPR), Head of the No 10 Downing Street Policy Unit, and an adviser in a number of Whitehall departments.

He is joined on the Commission by:
Fahmida Rahman – a Newham resident, Policy Analyst at the Resolution Foundation, and member of the WebRoots Democracy think-tank;
Kush Kanodia – Paralympian, social entrepreneur, co-founder of the Stratford-based global diversity and equality non-governmental organisation Choice International, and recent winner of the Asian Achievers Award for Entrepreneur of the Year;
Dr Elke Loeffler – senior lecturer at Strathclyde University in Glasgow, Director of Governance International, and provider of executive training on local governance and co-production in more than 30 countries;
Carl Miller – Research Director of the Centre for the Analysis of Social Media at Demos, Visiting Research Fellow at King's College London, and author and news commentator;
Kenny Imafidon – co-founder and Managing Director of ClearView Research, and previous Director of the party-neutral Bite the Ballot charity that empowers young people to register-to-vote.
Professor Pearce said: "The Commission is made up of local and national experts who will bring with them great ideas and knowledge about how local democracy can improve in Newham to better engage and represent all residents.

"Our recent first meeting was highly productive and provided a very interesting discussion on what the Commission seeks to achieve. It is exciting to be a part of this initiative and I am looking forward to working closely with both the members of the Commission and residents of Newham."

The Commission will meet between November 2019 and March 2020 before presenting a report with findings and recommendations to the Council in March 2020.

It will have two main tasks:
explore ways in which residents will have opportunities to be more engaged and involved in local decision-making and the Council's work;
examine the Council's current directly elected Mayor system of governance, introduced to Newham in 2002, and the alternative types that exist in English local government, and make recommendations on the best system of governance for Newham's future.
The first information-gathering session will be taking place on Monday 25 November from 10.45am to 4.15pm at Stratford Library, and will be an opportunity for residents to listen as the Commission hears evidence from experts in participatory and deliberative democracy, including the use of digital platforms.

Resident engagement events and online engagement will soon be announced as part of the Commission's work.

To learn more about the Democracy and Civic Participation Commission, its members, and how you can have your say about local democracy.
www.newhamdemocracycommission.org​
The website will be continually updated with events and online opportunities for Newham residents to share their experiences of local decision-making and how they think it can be improved.