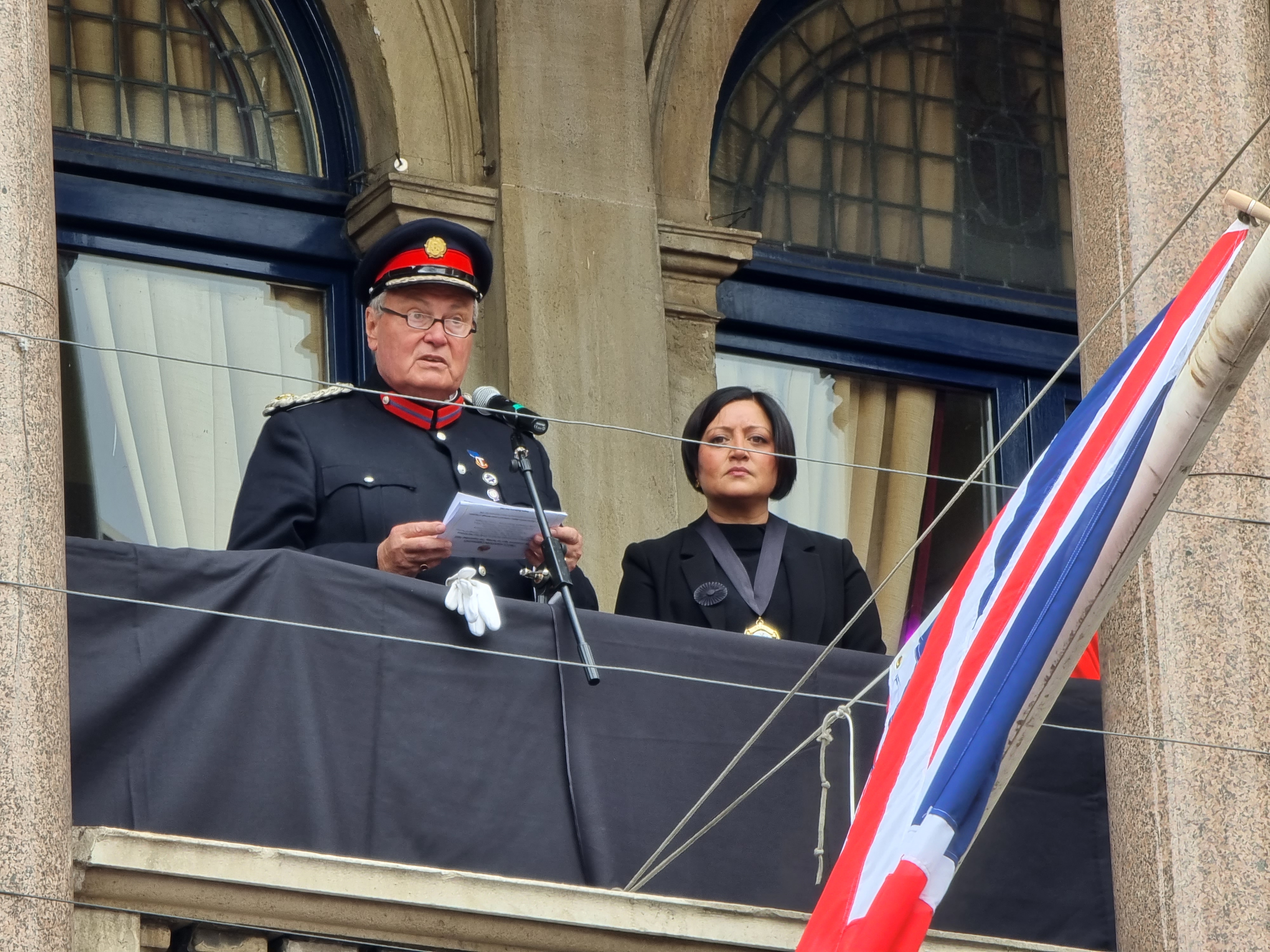 On Sunday 11 September, Newham's representative Deputy Lieutenant, John Barber and the Mayor of Newham, Rokhsana Fiaz OBE and Chair of Council, Cllr Winston Vaughan read the Proclamation of King Charles III in Stratford. Chair of Council, Cllr Winston Vaughan and other dignitaries were in attendance.
The local proclamation ceremony of the accession of King Charles III to the throne took place at Old Town Hall Stratford.
Following historic convention, the proclamation was part of a national set of proclamations.
The historic event marked a once in a generation proclamation of King Charles III made by Civic leaders of local government, regions and nations across the United Kingdom and the world.
The proclamation was witnessed by Newham residents who lined The Broadway in Stratford to watch this historic event.
The Mayor of Newham, Rokhsana Fiaz OBE, said: "The accession of His Majesty King Charles III represents a historic moment for our country. We are bearing witness to the new Carolean era of our new monarch at the dawn of a new reign.
"The humility and depth demonstrated by His Majesty during his accession speech yesterday provided much comfort as he pledged to follow the Queen's inspiring example and to serve with loyalty and love.
"I know his words touched so many of you here in Newham and millions more across our country and the Commonwealth; as did his promise of unstinting duty and service to the people of our great nation and beyond.
"Our Monarch's passion for important causes that are critical to the future of our nation and our planet shows how influential he will be as a figure at home and on the world stage, championing climate action and pioneering ground-breaking work for the young people of this nation through The Prince's Trust.
"His reign will undoubtedly bring hope to the people of this country during this time of profound sorrow as we mourn the death of Her Majesty The Queen.
"On behalf of residents, Councillors and the Council we wish him well as we now proclaim God Save The King."
Cllr Winston Vaughan, Chair of Council said: "As Chair of Council for the London Borough of Newham, I know that I will not be alone in mourning the loss of our beloved Queen after a life of dedicated service to the people of this nation. Her loss will be keenly felt by the residents and councillors of Newham and I would like to offer my condolences to King Charles III and the Royal Family during this difficult time.
"Today marks the accession of King Charles III, and with that accession we now embark on a new chapter as a nation. Like me, I know the people of Newham wish the Monarch well in his future reign. "
Following convention, the union flag was lowered after the Proclamation was read, and it will remain at half-mast until after the funeral of Her Majesty Queen Elizabeth II.
The Proclamation ceremony was filmed and can be watched below