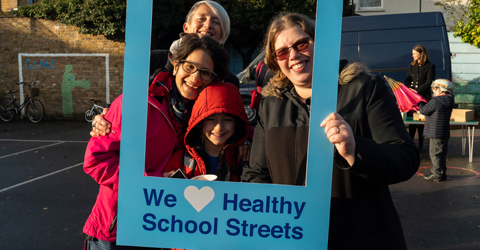 A scheme to make it safer, healthier and greener for pupils and parents to negotiate the daily school-run in Newham is off to a positive start following a successful launch.
The Healthy School Streets scheme is part of a six month pilot project aiming to improve local air quality, make it safer and easier to walk or cycle to school, encourage children, parents and carers to use the school-run to keep active and reduce traffic on residential roads
Roads around Woodgrange Infants and Godwin Primary Schools in Forest Gate, and Chobham Academy in Stratford are now closed to traffic at the start and the end of the school day to allow children, their parents and carers to use Sebert Road E6, and Cheering Lane E20 for walking, cycling and scooting, without facing the menace of heavy traffic on the way to and from school.
The first morning at Woodgrange Primary was a big hit with parents, staff and the children with many more than usual cycling, using scooters and walking to school.
Woodgrange head teacher Sarah Soyler said: "It's been amazing, you can feel the air is cleaner. Most parents have been saying how wonderful it is and the children are really excited about it."
The next two schools to join the project will be Lathom Junior in East Ham, and West Ham Church of England Primary in Stratford, where temporary road closures will also be introduced during peak drop-off and pick-up times.
Graham Cox, Commissioning Leader for Highways. Traffic and Sustainable Transport said: "This pilot project will be rolled out to a number of schools in the borough over the next few months, and we are starting with schools with particularly high local air pollution, or specific issues around road safety caused by the school run. During the project we will monitor the sites to see if there is a significant impact on air quality, traffic flow and safety.
"All the schemes are subject to consultation with the schools, residents, businesses and parents before they are brought in."