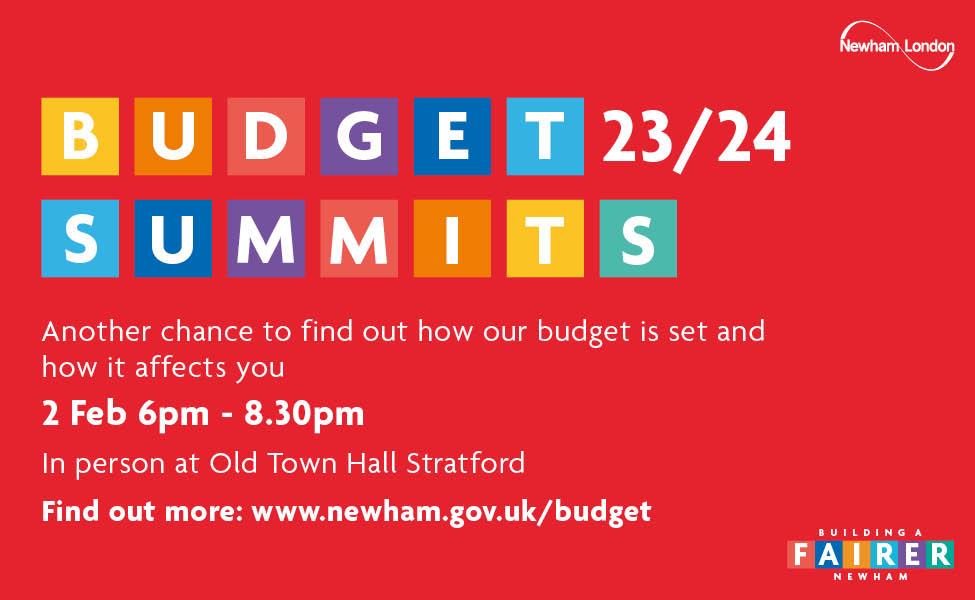 Have your say in the future of Newham.
A third Budget Summit giving residents, partners and stake holders across Newham the chance to have their say on the Council's draft budget will take place in-person at the Old Town Hall Stratford on February 2.

The event starts at 6pm and will give participants the chance to hear direct from and engage with senior Council leaders and officers about the draft budget for 2023/24.

Book your place at one of the Budget Summits here via Eventbrite.

In December the Mayor and cabinet agreed the Building a Fairer Newham Provisional Budget 2023/24 that includes the following proposals:
£10 million of investments for services to support residents during the cost of living crisis
£19 million of savings and efficiencies across the Council so that every penny and pound is spent well;
Council Tax rates in Newham to remain amongst the lowest in London, with a below inflation rise of 4.99 percent equating to an average Band D property in Newham paying no more than an additional £1.09 per week
£3 million per annum into the Council's General Fund Reserves in addition to a £4m contingency budget
£256 million of investments as part of its Building a Fairer Newham plans;
Residents and local partners invited to have their say on proposals at Newham borough-wide Budget Summits on 18 and 19 January 2023.
A final Budget 2023/24 plan will be published in February for approval by Mayor Fiaz and her Cabinet; and ratification by councillors at a Full Council meeting later that month.

Mayor of Newham Rokhsana Fiaz OBE said 'Residents facing the unprecedented challenge of the Cost of Living rightly look to the Council to support them in these hard times. While the impact of soaring inflation, energy costs and increased demand are also placing pressures on the Council, we are showing how we will continue to stand by them through our Budget proposals for next year.

"It's a plan that places fairness at the centre of our approach, alongside driving improvements across Council services through transformation plans that sustain the quality of services that our residents deserve. Nor will we shirk our responsibilities to ensure that we spend every penny and every pound to progress with the outcomes we have promised: new homes, improved neighbourhoods, clean streets, investment in our children and young people including those with special educational needs.'

Councillor Zuliqar Ali, Cabinet Member for Finance said; "The first two budget sessions held with residents were really successful, and show that this borough and this administration is truly committed to the vision of participatory democracy. By attending these events the people have shown they are also deeply invested in working with the Council to build a fairer Newham.

"I would encourage anyone who missed the first two summits, to sign up for 2 February. Come and make sure your voice is heard."

For more information, go to www.newham.gov.uk/budget

Itinerary:
5:45 arrival
6pm start
8pm finish
8pm - 8:30pm light dinner