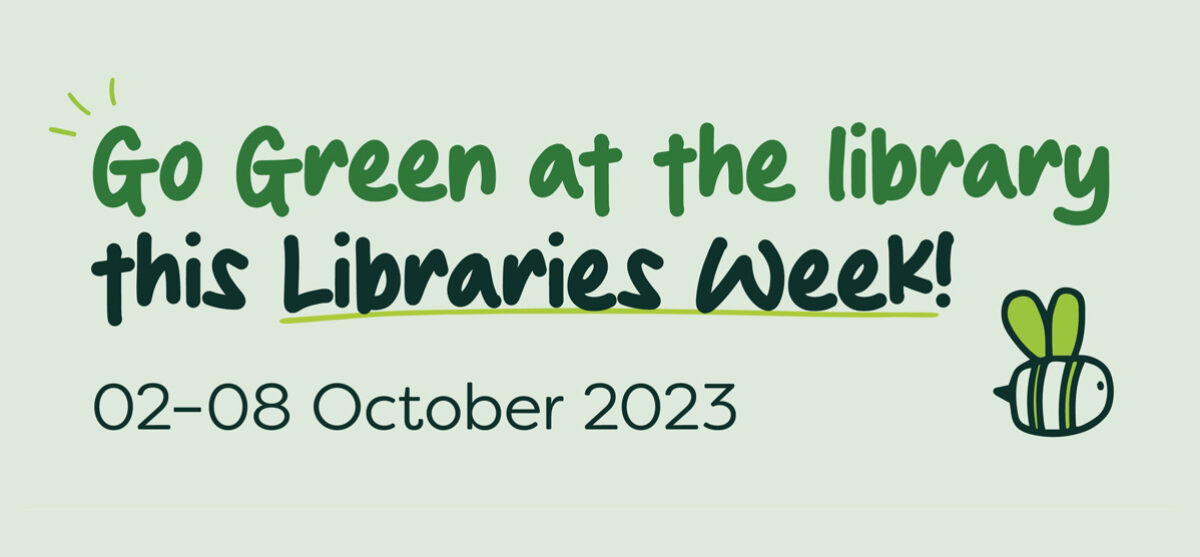 This year, Libraries Week has become Green Libraries Week! Join us to celebrate the central role Newham Libraries play in inspiring learning for all and supporting local communities.
To explore this year's theme of sustainability and climate change, we have planned lots of free exciting events for residents of all ages, including: upcycling workshops, zero food waste classes, make your money go further talks, children's crafts, repair café's and lots more.
So what are you waiting for? Come along and learn something new!
Find out about local events near you:
Beckton
Bring the Outside In - Thursday 5 October, 11am-1pm
Experience the feel, scents and sights of autumn - in the library! A Special Nature Play Session will take place at our regular Stay and Play. Under 5s play session; all children should be accompanied by an adult.
Creative Crafts from Recycled Materials - Wednesday 6 October, 4-6pm
Join us for creative crafting fun! Bring your own leftover materials and let's get creative. This is a family arts and crafts session and all children should be accompanied by an adult.
Custom House
Create recycled flower pots - Monday 2 October, 3-4pm & Saturday 7 October, 10.30am-11.30pm
Bring in your empty yogurt pots to make personalised flower pots for your home and garden.
Make a colourful pencil holder using recycled materials. – Thursday 5 October, 3.30-4.30pm
Just bring an empty tin and let's be creative together.
Canning Town
Saving Money with Bobby Seagull – Thursday 5 October, 6.30-8pm
Make your money go further with our very own version of Martin Lewis. Bobby will give tips on how to be a savvy spender, how to recover from debt or to avoid falling into the trap. Maths genius, local teacher and TV personality, Bobby Seagull's event is highly engaging and informative. A must see in these trying times.
To book your free place visit: https://newham.events.mylibrary.digital/event?id=82004
East Ham
Join us for a week of eco-friendly creativity! - Monday 2 - Thursday 5 October
Let's team up to give the environment a hand while having a blast. Celebrate Green Library Week at East Ham Library as we transform those recyclable items into an awesome collage. Let's turn these everyday items into something extraordinary together. Please bring buttons and any bottle tops that you can find. Happy recycling!
Create recyclable treasures at East Ham Library! – Friday 6 October
Come along with an empty kitchen roll or toilet roll. This is a fantastic opportunity as we at East Ham Library come together to create lovely items that help to look after the environment.
Zero Food Waste Workshop with Nutrition Kitchen Wednesday 4 October, 6pm – 8pm
Do your carrots rot in the bottom drawer of your fridge? Do your mushrooms turn mouldy before you can eat them? Then sign up for our zero waste food workshop and see how you can transform your leftovers into tasty treats. Book early as spaces are limited.
To book your free place visit: https://newham.events.mylibrary.digital/event?id=81041
Green Libraries Family Fun Day – Sunday 8 October, 1pm – 3pm
"I am the Lorax who speaks for the trees, which you seem to be chopping as fast as you please!"
Meet the Lorax and friends at our fun-filled, family Lorax Day. Generate your own power to create a super smoothie, make a Truffallo tree from recycled materials, plant a seed to take home and watch it grow. Or why not take a selfie with the Lorax himself?
Together, we can make a difference, one tree, one seed, and one smoothie at a time.
To book your free place visit: newham.events.mylibrary.digital/event?id=81046
Forest Gate
Nature Shelves: Go Green at the Forest Gate Library this month! – Monday 2 October – Saturday 7 October
Explore your amazing natural world by bringing the outside in and displaying your fantastic finds at Forest Gate Library. Any nature items collected by your child will be displayed for a month.
Autumn Family Time – Saturday 7 October, 11am – 12.30pm
Each child is a different flower. Come join us as a family and let your art work blossom. Create your own blooms, bugs and leaves and display your art and craft work.

Autumn Fall Leaf Chalk Art – Monday 2 October, 4pm – 5pm
Produce wow-worthy art with chalk! Pop in to Forest Gate Library to create a collaborative, nature-inspired art that will be displayed in the library.
Green Street
In celebration of Green Libraries Week, all week long Green Street Library will be running a series of recycling workshops, colour graphs, and making maracas out of plastic bottles.
Swap-A-Thon – Saturday 7 October
Bring us your pre-loved stationery, art resources and books to exchange for other resources.
Manor Park
Celebrate and cherish Planet Earth - Monday 2 October, 3.30-4.30pm
Families and children will use recycled materials to create their own green planet and come with ideas on how to look after it.
Create a Green Library Competition - Tuesday 3 October, 3.30-4.30pm
Enter a competition to create a green library by using our Lego models and other recycling materials.
Pop-Up Repair Café and Clothes Swap – Thursday 5 October, 3.30-5.30pm
Learn basic repair techniques from experts and swap unloved items from your wardrobe at our community-focused clothing swap and repair day. Bring your clean, gently-used clothing and accessories to either trade with a neighbour or learn how to mend.
To book your free place visit: https://newham.events.mylibrary.digital/event?id=81045
North Woolwich
Weekly sing-a-long – Wednesday 4 October, 1.30-2.30pm
Enjoy our weekly sing-a-long with a green twist!
Dr Bike Pop Up Repair Café - Tuesday 3 October, 3.30pm – 5.30pm
Newham Libraries has partnered with Dr Bike, a team of cycling enthusiasts with expertise in bicycle maintenance, to offer you a complimentary bike repair session. If your bicycle requires attention, simply bring it to Dr Bike's skilled mechanics, who will perform a comprehensive inspection of your bike and handle minor repairs right on the spot.
To book your free visit: https://newham.events.mylibrary.digital/event?id=81044
Plaistow
Make a Patchwork Cushion – Saturday 7 October, 2-5pm
Unleash your creativity and craft the perfect patchwork cushion for your home. All materials, including recycled scraps and sewing machine provided. You are also welcome to bring your own recycled materials in this fully sustainable adult workshop. Beginners and experienced sewers welcome.
To book your free place visit: https://newham.events.mylibrary.digital/event?id=81042
Make a winter home for favourite creatures - Monday 2 October, 3.30pm – 4.30pm
Join us for an arts and crafts session, where we will be making a winter home for your favourite creatures.
Curwen planting in the park – Tuesday 3 October, 10am-12pm
Join us to take part in a planting activity to improve our local green spaces.
Make Rain Catchers – Thursday 5 October, 4pm-5pm
Join us for a recycling arts and crafts workshop and make your very own rain catcher.
Under 5s Story Time: Our World – Friday 6 October, 10-11am
Join us for Under 5's Story time, where we read 'Our World' and talk about our amazing planet.
Stratford
Waste Not, Want Not- Planet Friendly Kitchen Gardening & Upcycling Inspiration – Saturday 7 October, 1pm- 3pm
Get ready for an exciting adventure in kitchen gardening with Michael Holland, an ecologist, educator, and author, who is passionate about the world of plants and their importance in our lives.
Join him for a family-friendly session filled with stories of his environmental journey and the inspirations that have shaped his love for nature. Michael will share fun and positive tips for upcycling, showing you how to transform everyday items into a thriving kitchen garden of pips & punnets. He'll also bring plenty of other creative ideas - all geared towards reducing waste and making your home a greener and more sustainable place for everyone to enjoy!
To book your free place visit: https://newham.events.mylibrary.digital/event?id=81043