Beckton Walking and Cycling Project
Newham Council wants to make Beckton a great place for walking and cycling. To make that happen, we are committed to improving local streets to make walking and cycling an easy, safe and convenient way to get around.
The Beckton Walking and Cycling Project is focused on upgrading physical infrastructure in order to:
make walking and cycling easy, safe and convenient
reduce air pollution
promote more high street economic activity.

These upgrades to physical infrastructure could include, for example:
cycle tracks and lanes
wayfinding signage
pedestrian crossings (including zebra crossings)
improved footways
traffic calming
changes to junctions
improved lighting and CCTV
trees and greenery.
The project is using the Levelling Up Fund which has been awarded to Newham from central government. The scheme will be delivered between April 2022 and April 2024.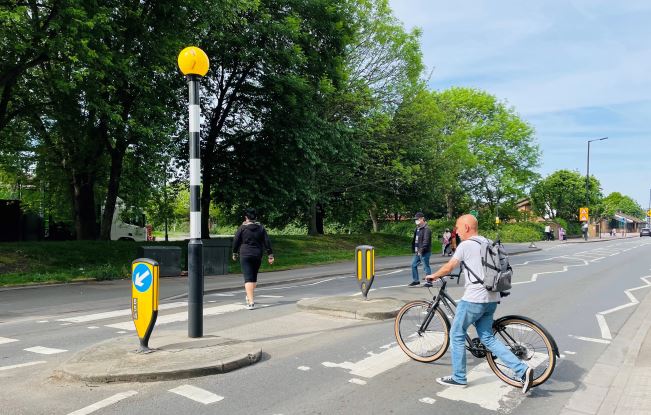 Zebra crossing on Tollgate Road near junction with Lion Road
We are working to build upon the learnings from the Community Vision for the Beckton Parks Masterplan, for more information please visit www.newham.gov.uk/becktonparksmasterplan

Resident workshops
You are invited to one of two workshops which will provide more detail on the project, and enable you to provide additional feedback. Workshops will consist of the following elements:
Results of resident survey findings
Update on early design work
Residents provide detailed feedback on the types of projects
Online workshop
Wednesday 25 January 2023
6:00pm to 7:30pm
Via MS Teams
Registration page
In-person workshop
Thursday 26 January 2023
6:00pm to 7:30pm
Beckton Globe Library - 1 Kingsford Way, London E6 5JQ
Registration page