Lower Lee Valley priority bridges programme
Background
The River Lea forms the historic and geographic core of the Lower Lea Valley, marking the borough boundary between Tower Hamlets and Newham. Rich in wildlife and providing valuable open space for local communities, it is one of the most important natural, heritage and cultural assets in the borough.

There is currently no way to cross the River Lea between the A13 at Canning Town and Twelvetrees at Bromley-by Bow, a distance of over one mile. To compare, at the Queen Elizabeth Olympic Park there are opportunities to cross water every 200 metres on average, and between Islington and Victoria Park the Regents Canal can be crossed every 270 metres. Along with busy main roads such as the nearby A12 and A13, the river forms a physical barrier for the local community. This same area is poised for significant residential and commercial growth, and without connections along and across the river many future pedestrian and cycle journeys will be forced to share space on busy roads with vehicular traffic.

In response, London Borough of Newham (LBN) and London Borough of Tower Hamlets (LBTH) are working in partnership with Transport for London (TfL) and the Greater London Authority (GLA) to pursue a number of initiatives to tackle these severance issues in the Lower Lea Valley. Some projects have recently been completed as part of the Lea River Park masterplan such as new ramps at Twelvetrees and Canning Town as well as a new river bridge at City Island. As new developments come forward in the Leaside, a continuous river path – The Leaway - is gradually being stitched together, allowing use of the river for commuting, exercising and socialising.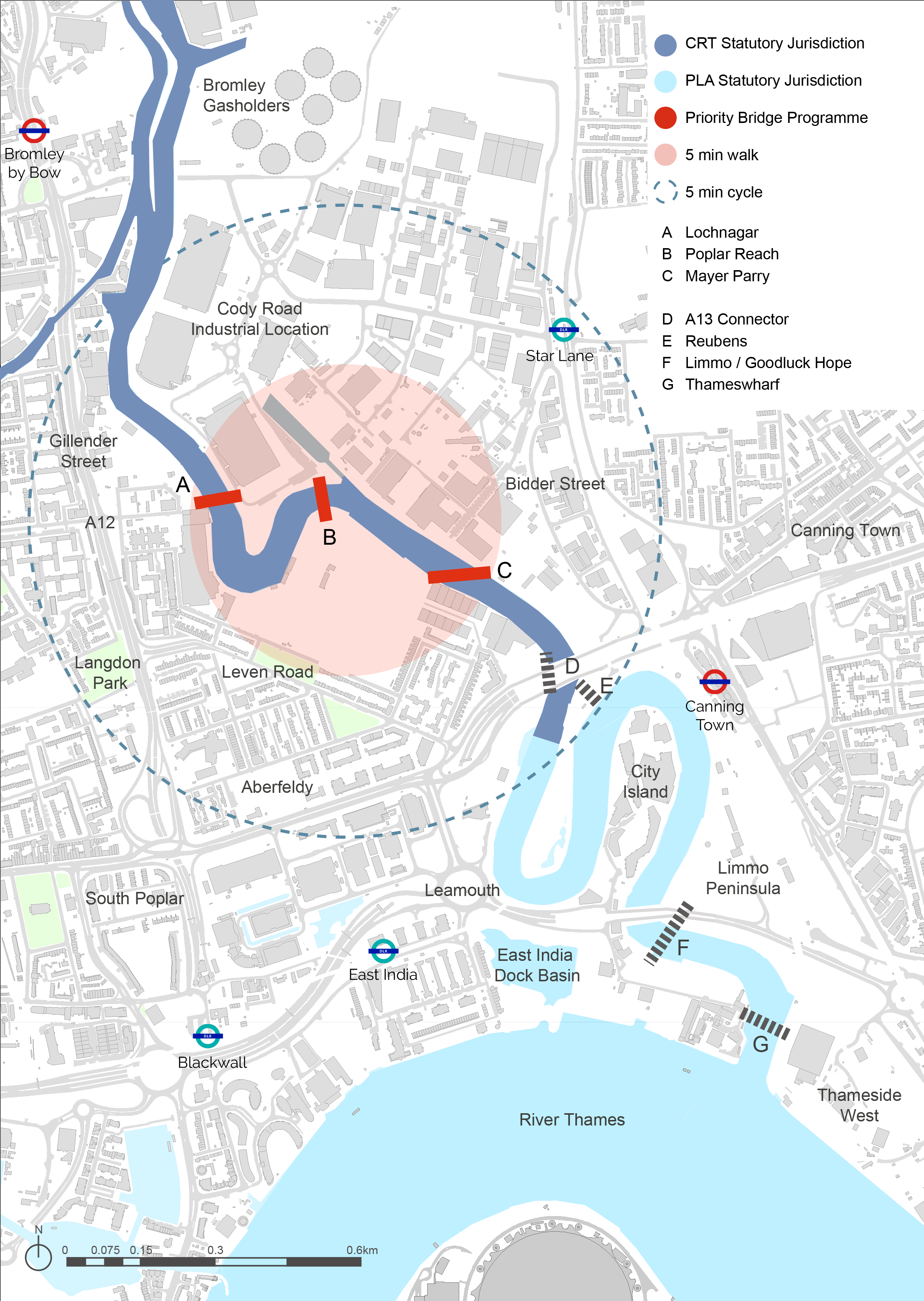 Programme
The two councils are now working together on a wider programme of seven connectivity projects in the Lower Lea Valley. This programme of bridges and links will help overcome the severance and isolation in the area, providing new routes to jobs and transport links for existing and new residents.

A partnership development framework has been entered into by LBN and LBTH to progress the delivery of three new priority river pedestrian and cycle bridges with allocated funding from public bodies and the two council's Capital Programmes.

Led by the Regeneration Teams from Tower Hamlets and Newham, the Lower Lea Bridges Programme is currently focusing on the priority bridges in the stretch of the River Lea at Bow Creek north of the A13 Road Bridge and South of the Twelvetrees bridge, which include:
Delivery of the priority bridges is expected to commence in 2022, starting with the Lochnagar Bridge and all three bridges are expected to be open for public use by 2025.
Benefits
The emerging 2021 Leaside AAP led by Tower Hamlets sets out a vision for improved connectivity in the Lower Lea Valley:

"By 2031, the Lower Lea Valley will experience comprehensive regeneration and redevelopment of former and underused industrial areas. Connectivity will be transformed with a series of new bridges and riverside walkways across the River Lea, and crossings along the A12 and A13, which will integrate existing and new communities in the area."

The bridges aim is to join together existing and new residential areas into a series of healthy and prosperous neighbourhoods. By addressing the challenge of physical severance in the area, the Bridges Programme will deliver wider social and economic benefits for both boroughs estimated to outweigh the costs by 13 to 1. The programme has the potential to bring over £250m in economic benefits and £26.7m worth of environmental benefits. The bridges will facilitate an estimated 15 million pedestrian and cycle trips per year, providing greater access to and from employment areas and transport interchanges at Canning Town and Bromley By Bow. In addition, the bridges will:
Facilitate access for local residents and users to and from Canning Town to green open spaces at Langdon Park, Three Mills Green and the Queen Elizabeth Park;
Reduce walking journey times from existing and new Leaside communities in and around Canary Wharf to work spaces within Canning Town and Stratford and to transport interchanges such as Canning Town Station by 10-15 minutes
Encourage access to the Leaway Walk for everyday activities such as commuting, exercise or walking a dog
Promote walking and cycling and help to deliver the Mayor's aim for 80% of all London trips to be made on foot, by cycle or using public transport by 2041
Support use of the river by boat as a local distribution network
The bridges will be designed to be accessible for all users, celebrate the industrial heritage of the local area, create attractive local landmarks and target appropriate standards in terms of climate change and net zero targets. The bridges will also facilitate opportunities for more an estimated 10,000 local construction jobs and more than 300 local apprenticeships in emerging nearby residential developments.