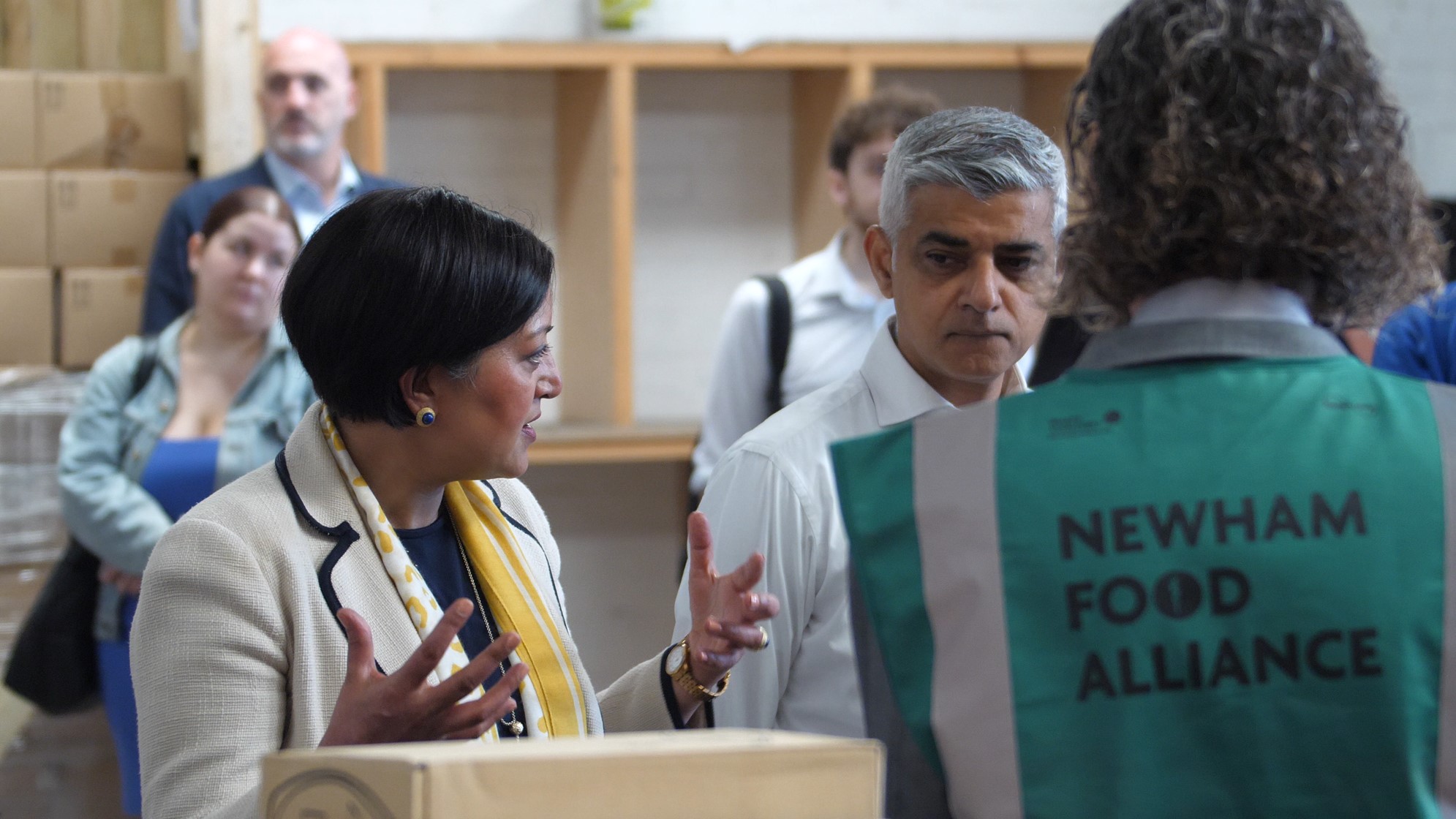 First 100 Days include significant steps towards Building a Fairer Newham as Cost of Living crisis deepens.
In the week marking 100 days of her second term, Mayor of Newham, Rokhsana Fiaz OBE released a list of key accomplishments, demonstrating ways in which her 'Getting Stuff Done' administration has worked to serve the residents of Newham. Since being re-elected on May 5, Mayor Fiaz has been focused on delivering results and addressing the most pressing challenges facing our borough from fly-tipping, safety and the cost of living crisis.
Mayor Fiaz said: "When I was re-elected as your Mayor, I made a clear pledge to residents that I'll work hard every hour of every day of every week over the coming 4 years to 'get stuff done' and take action to build a fairer Newham. Over the last 100 days I have been busy doing just that with my cabinet members, deputy cabinet members and Commissioners as we mobilise the Council to deliver on the promises I made.
"A major concern for residents in Newham is the cost of living crisis impacting households. During these most difficult of times, we hear how energy bills for a typical household could hit £4,266 next year and how people in the capital are regularly or occasionally going without food or essential items; with Black and Asian residents, renters, those with disabilities disabled most likely to be struggling. That's why our Newham Food Alliance, part of the work we do through the Cost of Living Crisis Taskforce that I announced in May, is working with 35 Voluntary, Community and Faith partners, to mobilise the surplus food supply available to help feed thousands of families in need across Newham by distributing 50 tonnes of food every week.
"Our response to the cost of living crisis will accelerate to support our residents facing this emergency and I will continue to demand that the government provides us with the money we need to help our families and stop them falling off the cliff edge. On 7th September, I will be hosting a Newham Cost of Living Crisis Summit with key strategic partners across all sectors to review our priorities and how we can effectively shape and co-ordinate our response going in to the winter period.
"Since May, my administration has delivered on its promise to Newham residents to address the issues that matter most to them. We've taken action on rogue landlords, taking action against people who are fly tipping, investing more money to support our young people, including those with special educational needs and disabilities; offering residents advice on their employment rights and launched a campaign to target developers who haven't removed dangerous cladding from their blocks of flats.
"The first 100 days is a marker of all the actions we have been taking as our purpose is building a fairer Newham. Over the next 100 days and in the months ahead, our focus and our duty is to deliver on the promises made to make life better for the people of Newham facing the cost of living crisis."
Highlights from Mayor Fiaz's first 100 days of her second term include:
1. Getting Stuff Done Cabinet appointed
2. Newham's Inclusive Economy to support you in these hard times
Mayor Fiaz launched a Cost of Living taskforce to bring together all the council's work supporting our residents during these hard times. Through the Council's Newham Food Alliance, the Mayor has been showcasing all the frontline actions being undertaken as she urges Government to provide councils more support to avert a major food emergency. The Council is currently distributing the most amount of surplus food to hard-hit families, the largest by any local authority in the UK, highlighting how real this crisis is. Through its surplus food collaboration with national partners Feeding Britain, The Felix Project and FareShare UK, 50 tonnes of food is being given to the most vulnerable households in Newham in partnership with Newham's voluntary, community and faith organisations. 426,000 food parcels have been distributed since the inception of the Alliance.
Mayor Fiaz is accelerating Newham's prominence as a Living Wage Borough and make the Royal Dock's London's first Living Wage neighbourhood through launching an action plan with a coalition of local partners including Newham Citizens, Tate and Lyle, Excel alongside the Living Wage Foundation. Taking action to increase accredited Living Wage employers in the Royal Docks by 50 percent annually over the next three-years.
Mobilising the Council's Our Newham services to provide more financial and welfare advice, job opportunities; plus protect workers' rights through its Employment Rights Hub. Over £1million of unclaimed benefits have been unlocked for Newham residents in total.
Mayor Fiaz is advancing community wealth building and promoting inclusive growth to create jobs and widen opportunities in Council owed buildings, including the historic Alice Billings House building at Stratford Town Hall which is being funded so that it is transformed into a workspace hub for people working in the creative and cultural sector in Newham. This refurbishment of Alice Billings House is being funded by Newham Council's Active Spaces Programme and will be a central part of the Mayor's Stratford Vision, which will harness the benefits of forthcoming developments for the local community.
Mayor Fiaz welcomes the fact that Our Newham Money team are maximising residents income on average by £30,000 a week and have secured £590,000 through benefit and debt casework support, support with Universal Credit claims and claiming other entitlements. Our Newham Money has also supported 3,160 residents towards their financial wellbeing, with the majority seeking help due to the strains of the cost of living crises. 1,374 families have received immediate financial assistance with food and energy - with £251,660 issued in grants. 19,613 children and young people eligible for free school meals including those with NRPF were supported across 4 weeks of summer holidays with food vouchers through the Household Support Fund.
3. Homes for our residents
Mayor Fiaz is accelerating plans to deliver another 1,500 social rent homes our residents can afford, as part of a £2 billion investment in housing delivery. This includes the Plaistow Hub development which will provide 182 much needed homes, new community facilities including a new library and neighbourhood centre, a supermarket, gym and café. The Grange Road development completed this summer further provides 77 quality flats at social rent levels.
Mayor Fiaz has been joining council officers on a series of enforcement checks making clear to private landlords in Newham that they must provide high-quality housing that have good space standards, are well managed and safe. She continues her work at the coalface with Council officers undertaking licensing inspections and enforcement on overcrowded and unsafe homes as part of our war on rogue landlords.
Mayor Fiaz and her Cabinet approved Newham Council's new selective property licensing scheme application to be submitted to the government, which will secure an unprecedented third five-year term for the Council's Private Sector Landlord Licencing scheme if successful. The enhanced inspection scheme will cover temporary accommodation used by the Council to help families who have been made homeless and demonstrates the Council's zero tolerance of rogue landlords who exploit Newham residents living in the borough's private rented sector.
Mayor Fiaz launched the cladding action campaign, warning private developers that they face serious legal actions if they fail to comply with fire safety requirements needed for 15,000 flats in Newham. The mental and financial strain of unresolved cladding issues is pushing many Newham residents close to breaking point as is the fear of fire breaking out in their homes.
4. Safer Newham
Mayor Fiaz and her Cabinet approved the new strategy on Domestic Abuse prevention, developed in consultation with residents, as part of a borough-wide public health approach to prevent domestic abuse and violence against women and girls. Mayor Fiaz is all too aware that not all residents feel safe in our borough. Domestic abuse has a devastating effect on families and communities, causing continuing trauma, both for its primarily female survivors, as well as for children who are survivors or witnesses to the abuse.
Mayor Fiaz promised to increase the Council's Community Safety Enforcement Officers to tackle anti-social behaviour and environmental crime on our streets. The Mayor and her cabinet are getting stuff done through a series of Community Safety days of Action with the expanded team of officers now recruited. This increased capacity is making a difference to tackling community safety, licensing, trading standards, housing, parking enforcement and street cleansing. Working alongside the police and local councillors we are together tackling crime and anti-social behaviour. They are also taking action to make Newham's roads safe by tackling reckless street racing, dangerous driving and car meets. Over these action days, among others, 17 Fixed Penalty Notices were issued, 167 fly-tips searched for evidence with 23 cases followed up, 35 Community Protection Warnings issued for waste in front gardens and 23 Trade Waste Producer notices issued.
5. Delivering a Healthier Newham and promoting Ageing Well
Mayor Fiaz is committed to ensuring all our people can age well and live independently. She visited The Resource Centre, which provides services for older residents and people with learning disabilities to hear directly from residents about what they need.
Mayor Fiaz and her cabinet have agreed a new supported accommodation strategy, for elderly residents and those needing support as part of her agenda to ensure all residents live in a healthier Newham and are supported to age well.
Mayor Fiaz and her cabinet celebrated the achievements of the administration's 50 Steps to a healthier Newham strategy, which received a Municipal Journal 2022 Award in recognition of its impact in addressing health inequality to improve the health and wellbeing of all our residents.
6. Your Neighbourhood
Mayor Fiaz and her administration are taking action on fly tipping and littering in the borough with an investment of £40 million in the coming 4-years to keep our streets and neighbourhoods clean for our residents, and an action plan to reduce reported fly-tipping by 50 percent. Increased enforcement action against fly tippers and fining them for their litter offences has started with an enhanced enforcement team to help us make Newham a clean borough.
Mayor Fiaz and her cabinet are investing to create a greener borough as part of wider plans to reduce air pollution, including campaigning against the Silvertown Tunnel and the London City Airport expansion. Encouraging more walking and cycling is a priority as is the health of Newham residents by improving the air they breathe through actions like Clean Air Day.
The Council has secured £50,000 funding for the Greenway Pollinator Trail to re-wild the walkway and create new habitats for bees, hoverflies, butterflies and other wild pollinators for people to enjoy; as well as celebrating 6 prestigious Green Flag awards for our parks.
7. People Powered Action and supporting our young people
Mayor Fiaz and her cabinet continue to empower residents and support improvements they want to see in their neighbourhoods through £800,000 worth of grants in this first year through the Council's Community Assemblies which is part of the administration's participatory democracy agenda.
Mayor Fiaz and her cabinet have announced an initial first year investment of £1.2 million for children and young people with special educational needs and disabilities as part of plans to accelerate Newham becoming a child-friendly borough for all.