Current and recently completed projects
Current: M7
Development and Construction Manager: Westfield Europe Ltd.
Architect: Simpsonhaugh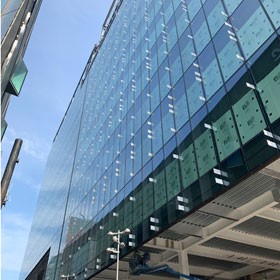 Work is currently underway to build a contemporary stylish office, which will be wrapped in floor to ceiling glazing and over-clad with an external grid of shading fins. This will see two distinctive and unique workplace buildings within Westfield's urban quarter. Routine inspections and regular design meetings are held to ensure the works and overall programmes are maintained.
Both buildings are served by generous entrance foyers, screened roof gardens and outstanding views to the Queen Elizabeth Park and the Skyline beyond. Mariza Graham (Building Control Manager) is the lead officer and brings a wealth of experience, with a strong bias towards Fire Structural Engineering to ensure the delivery of this project.