Completed: McGrath Road
Project dates: July 2016 Completion January 2019
Architect: Peter Barber Architects
Development and Construction Manager: Mulalleys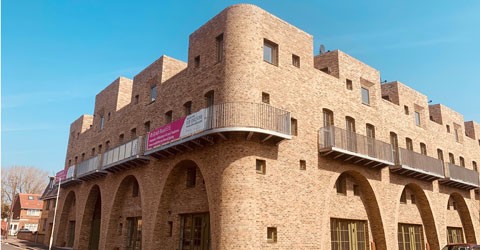 The regeneration of E15 has witnessed McGrath Road development take shape and establish a positive, yet unique impression to the area. The site was inspected by our multi-disciplinary team and successfully signed off in January 2019. The site comprises of 26 little tower houses with a mix of one, two and three bedrooms and a roof terrace.
Working closely with Peter Barber Architects and the construction team, the project has been a pleasure to work on continues to draw positive press coverage. Throughout each stage of the project, we utilised our extensive knowledge and experience to assist the project team in meeting both the requirements of the Building Regulations whilst also fulfilling the project brief.
Regular site inspections were being carried out to ensure that the works were completed to a high standard, and to ensure that any complex issues were resolved quickly and efficiently. Our flexible approach has facilitated the development of the site and maintained our high standards of safety and energy efficiency.